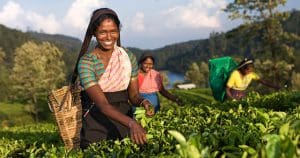 Women are vital actors throughout supply chains – as factory workers, farmers, or other workers, as owners of businesses from which companies source, and as retailers who sell companies' goods. Critical topic areas in the supply chain segment include enhancing the well-being of workers and enabling them to thrive, sourcing from more women-owned businesses and enhancing their access to critical resources and inputs, and supporting the success and well-being of retailers that sell products or services.
Supporting the well-being of workers in your supply chain not only has social benefit, but can increase labor productivity and reduce risk. Furthermore, greater diversity of retailers and suppliers allows your company to access new markets, capitalize on unique assets and abilities, and enhance your brand. Research examples:
Supporting worker well-being can enhance productivity, as demonstrated through a study that found a 4:1 ROI on a worker program providing female workers with health education.
Supplier diversity can lower costs: A US study found that companies with supplier diversity programs spent 20% less than competitors on purchasing operations and had lower numbers of procurement staff.
Promoting supplier relationships with women entrepreneurs is associated with enhanced corporate responsibility and customer loyalty.
Service Offerings – Sample
Service offerings are customized based on the needs and objectives of each client.