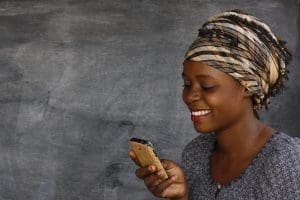 For many markets, particularly in developing countries—companies haven't yet tailored products for women or made great efforts to market products to women. As a result, women miss out on products and services, such as financial and digital, that could improve their lives.
Furthermore, women control 60 to 80 percent of consumer spending. Marketing products to women can enhance company sales and growth, and can also be utilized as a tool to transform harmful societal norms and views, such as how feminine beauty or masculinity should be defined.
Designing for and marketing to women allows companies to expand into new markets, target new consumers, and boost sales to existing customers. Sector-specific examples:
In mobile, there is a $170 billion opportunity for mobile providers to better serve women.
In finance, women's spending on insurance premiums is expected to grow to $1.7 trillion by 2030, doubling its current value.
In travel, women make more than 80% of purchasing decisions.
Worldwide, some 2.3 billion women don't currently have access to the internet.
Women's incomes are expected to grow faster than men's and women are expected to control nearly 75% of discretionary spending by 2028.
Service Offerings – Sample
Service offerings are customized based on the needs and objectives of each client.