2. ICRW leadership recognized around the world 
apolitical's top 100 most influential people in gender policy: President Sarah Degnan Kambou was listed among the Top 20 and Director of Policy and Advocacy Lyric Thompson among the honorees, alongside Board Member Naila Kabeer; former ICRW President and current Executive Director of the 3D Program for Girls and Women, Geeta Rao Gupta; and former ICRW Vice President and Founding Director of George Washington University's Global Women's Institute, Mary Ellsberg.
Sarah Kambou received a 2018 Excellence in Chief Executive Leadership (EXCEL) Award from the Center for Nonprofit Advancement.
Asia Regional Director Ravi Verma named to the International Advisory Group for the Lancet's special issue on women in science, medicine and global health.
Chimaraoke Izugbara received the Reproductive Justice & Abortion Research Award at the Abortion and Reproductive Justice Conference at Rhodes University in South Africa.
3. Costs of sex-based harassment
In 2018, ICRW Advisors developed a framework to help organizations better understand the hidden costs of sex-based harassment. From that framework, we have developed diagnostic tools that will help businesses transform workplace culture and foster gender equity. Our efforts in this are growing as we look to practical solutions for tackling the gender inequity that underlies #MeToo and #TimesUp and how they play a role in the workplace.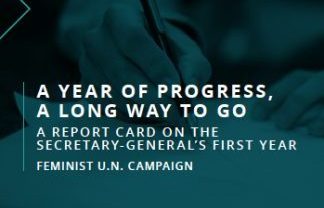 4. First year report card on the U.N. Secretary-General
When he was elected, U.N. Secretary-General António Guterres invited the feminist community to hold him to account for his promises to advance feminist transformation at the United Nations. In response, at the end of his first year in office, the Feminist U.N. Campaign conducted a rigorous progress assessment, capturing feedback from academics, feminist civil society, U.N. staff and watchers around the world. Our report card measures progress against a feminist vision for change.
5. Technology-facilitated gender-based violence
ICRW has been exploring the intersection between online and offline gender-based violence. Our team created both a definition of and framework for understanding technology-facilitated gender-based violence (such as cyber-stalking, doxing, etc.). In 2019, we will build a global network across researchers, GBV support services and tech to identify interventions for disrupting it.
6. Intimate partner violence
In 2018, ICRW's Asia Regional Office released a series of publications reporting on the results of creative community and health-service interventions for addressing intimate partner violence. These interventions delved into the roles of the health sector and women's collectives and yielded promising new opportunities for programs and policies to help women in abusive relationships.
7. Women's Entrepreneurship & Economic Empowerment (WEEE) Act
After founding CWEEE (Coalition for Women's Economic Empowerment and Equality) with CARE USA, Human Rights Watch and FHI 360, ICRW helped draft and secure House passage of legislation to expand investments in WEEE in U.S. foreign assistance. On December 21, 2018, the reconciled bill was approved and sent to the White House for the President's signature.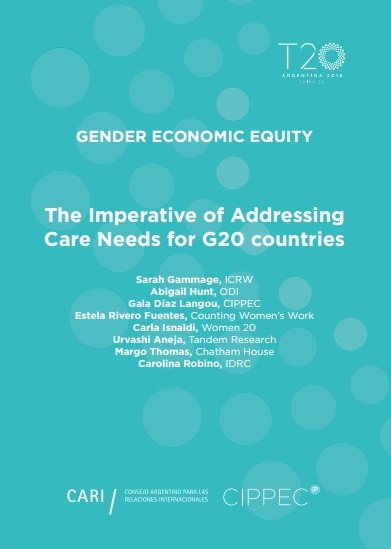 8. Thought leadership for gender equity in G7 and G20 
In 2018, ICRW's involvement in the G7 and G20 processes has grown. Lyric Thompson participated in the G7's women's stakeholder meeting, Sarah Gammage played a lead role in developing the T20 policy brief on care (The Imperative of Addressing Care Needs for G20 Countries) and Sarah Kambou took part in a panel discussion at T20 Argentina.
9. In conversation with Ashley Judd and Diane Rehm
In July, ICRW hosted a fundraising event and discussion in DC between Ashley Judd and Diane Rehm, host of the podcast On My Mind. The two talked about #TimesUp and Judd's work to create justice for survivors of sex-based harassment, sexual assault and abuse.
10. Know Violence – HIV report
This joint report explores violence related to issues of sexual orientation, gender identity and expression (SOGIE) in seven South Asian countries and provides recommendations for mitigating the effects of violence on mental health and HIV vulnerabilities through program and policy efforts.