A conversation with Lyric Thompson, Senior Director of  Policy and Advocacy, ICRW
In May, over 1,000 people tuned in to the launch of a vision for a Feminist Foreign Policy in the United States—an initiative that has now been endorsed by over 70 organizations representing thousands of Americans. The event built on a years-long global and inclusive process to gather insights toward defining a gold standard for feminist foreign policy globally and in the United States. At this major milestone, ICRW's Lyric Thompson reflects on the history of this effort, and what's next to move feminist foreign policy from vision to reality.
Q: What is feminist foreign policy?
A: After years of research and consultation with hundreds of experts, government officials and feminist activists around the world, we're defining, "feminist foreign policy" as the policy of a state that defines its interactions with other states, as well as movements and other non-state actors, in a manner that: prioritizes peace, gender equality and environmental integrity; enshrines, promotes, and protects the human rights of all; seeks to disrupt colonial, racist, patriarchal and male-dominated power structures; and allocates significant resources, including research, to achieve that vision.
Feminist foreign policy is coherent in its approach across all its levers of influence (aid, trade, defense and diplomacy). It is anchored by the exercise of those values at home and co-created with feminist activists, groups and movements, at home and abroad.
Q: How did this movement begin?
A: We began following this in 2014, when Sweden launched the world's first feminist foreign policy. But it's hard to do research on a sample of one, so we have been waiting for more countries to join the movement. By 2019, we had enough countries making announcements that we felt the time was ripe to do the review of what existed and begin our global consultation process with women's rights activists and civil society groups.
Prior to this work, there was no standard global definition that says, "this is what feminist foreign policy means." This is why we started with a global conversation with the very governments who pioneered the effort and the activists and philanthropists leading the way to advance the field, to say "What would a common global framework or template look like?" Then, we applied this framework to the US—and added ambitions where we thought the US could break new ground.
We see this effort as complimentary to the work we do on a number of women's rights and gender equality issues—from women, peace and security, to women's economic empowerment to sexual and reproductive health and rights. It provides a larger umbrella that includes an explicitly antiracist focus and allows us to build larger bridges to conversations on everything from immigration, to trade, to nuclear policy—transcending our traditional focus areas as an organization with roots in the development space.
Q: What are the next steps toward making this vision a reality in the U.S?
A: In our view, it would be adopting the above definition and making considerable structural, policy and operational reforms accordingly. We are now mobilizing the more than 70 organizations that have co-created and endorsed the paper in a coalition structure that will take the advocacy forward. Researching and writing the paper, although it took years and the contributions of many, was just the beginning. Now we have to make the vision a reality.
Q: What is needed for Feminist Foreign Policy to gain traction on the global stage?
A: Happily, it already is. More and more countries are adopting feminist foreign policies, most recently Mexico in January 2020, meaning both our neighbors now have them. And this week, a U.N. report was published that called on governments to adopt feminist foreign policies in order to achieve gender equality and end gender-based violence—for the first time to my knowledge. 2020 was supposed to be a major year for women's rights anniversaries and organizing, but much of that work has been postponed to next year due to the coronavirus pandemic. This means we have a year to organize around and in support of feminist foreign policy and bring more stakeholders on board. The Generation Equality Forum that will happen next year is channeling global efforts along six thematic streams, where the anticipation is countries, businesses and civil society will come together to make bold, transformative commitments to advance gender equality. One of those themes is "feminist movements and leadership," an ideal home for such discussions, and an ideal platform within which to make just this kind of traction.
For more information, reports and resources, please visit our hub for all things feminist foreign policy.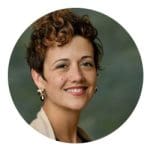 About the interviewee: Lyric Thompson is the Senior Director of Policy and Advocacy at the International Center for Research on Women (ICRW). In this capacity, she leads the institution's formulation of evidence-based policy recommendations and oversees ICRW's advocacy efforts with the U.S. Government and internationally. She is an adjunct professor at the George Washington University, where she teaches a graduate level course on women's rights advocacy.
Read her full bio here and follow her on Twitter at @lyricthompson.