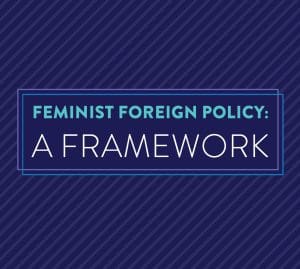 As the world marks the 25th Anniversary of the Beijing Declaration and Platform for Action, a growing number of feminists inside and outside of government are pioneering new approaches to policy that are tailored to address the issues of the day and advance new ground in the global quest for gender equality and the fulfillment of women's human rights. Today's most pressing issues, and the solutions that are envisioned, are not radically different from those addressed at Beijing. The context, however, has changed. Despite measurable progress in girls' education, maternal health and, increasingly, the repeal of discriminatory laws, there are new and dynamic challenges that threaten to reverse progress and rollback rights. 
This framework attempts to distill a definition and few core components of feminist foreign policy, drawing from the few examples that exist today, as well as the insights of feminist thinkers, advocates and experts inside and outside of government.
Download the framework:  English  |  Spanish-español |  French-français  |  Arabic–عربى | German-Deutsch | Dutch-Nederlands
In June 2021, this growing collective was formalized at the Generation Equality Forum in Paris, in hopes of informing the fledgling field of feminist foreign policy and expanding the number of countries bold enough to embrace it. The Global Partner Network to Advance Feminist Foreign Policy will encourage learning and adoption of a shared framework for a feminist foreign policy; provide resources to be called upon for action and advice; and determine a plan of action for the year ahead.