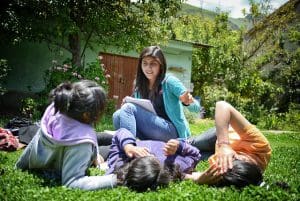 Many underlying causes of gender gaps originate outside the workplace—in the communities where companies operate. Gender gaps are created and reinforced by broader social, legal and economic factors. Therefore, partnerships are often needed to authentically tackle these issues – at national, community and sector levels.
Supporting women as community members can benefit society, business and broader economies. For business, tackling gender-specific issues can support a company's license to operate, enhance brand and goodwill and ensure that companies have a strong operating environment and investment climate. Research examples:
Advancing women's equality can add $12 trillion to global growth in 2025. In a "full-potential scenario" in which women play an identical role in labor markets to men's, as much as $28 trillion could be added to global annual GDP in 2025 says a McKinsey & Company (2015) report.
Where there are no job restrictions on women's work, the wage gap is smaller.
Violence against women not only damages women's health and well-being, but has costs estimated to amount to ~3% of global GDP due to lost productivity alone.
Achieve women's empowerment and gender equality goals through a tailored, cutting edge gender strategy.
Build an effective, innovative initiative to tackle local gender issues.
Understand the impact that (1) your products and services, and/or (2) your existing women's empowerment initiatives are having on women in communities where you operate and how to improve them.
Build capacity of local organizations and community members to enhance women's empowerment, employability, and skills.
Example Case
About the client & project:
A leading cocoa company wanted to enhance its women's economic empowerment initiatives for cocoa growing communities. The company was interested in better understanding what community-based approaches work best to empower women economically, with a focus on the agricultural supply chain and communities where it operates. The client understood that women's economic empowerment leads to more resilient households and communities that in turn may positively impact the sustainability of the cocoa value chain.
Our approach:
ICRW provided the company with a synthesis of evidence on how to empower women in agriculture and highlighted best practices that could inform its approach. ICRW also refined the client's gender empowerment plan, convened expert meetings to inform the strategy, helped to develop a theory of change and identified indicators for monitoring and evaluation.
Client benefits:
The company internalized ICRW's findings and recommendations for the gender empowerment plan. The monitoring and evaluation support informed the client's framework for its ground programs and key performance indicators (KPIs).