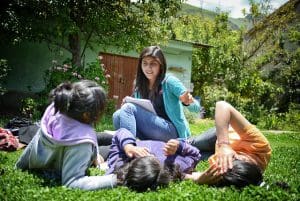 Many underlying causes of gender gaps originate outside the workplace—in the communities where companies operate. Gender gaps are created and reinforced by broader social, legal and economic factors. Therefore, partnerships are often needed to authentically tackle these issues – at national, community and sector levels.
Supporting women as community members can benefit society, business and broader economies. For business, tackling gender-specific issues can support a company's license to operate, enhance brand and goodwill and ensure that companies have a strong operating environment and investment climate. Research examples:
Advancing women's equality can add $12 trillion to global growth in 2025. In a "full-potential scenario" in which women play an identical role in labor markets to men's, as much as $28 trillion could be added to global annual GDP in 2025 says a McKinsey & Company (2015) report.
Where there are no job restrictions on women's work, the wage gap is smaller.
Violence against women not only damages women's health and well-being, but has costs estimated to amount to ~3% of global GDP due to lost productivity alone.
Service Offerings – Sample
Service offerings are customized based on the needs and objectives of each client.