The Feminist United Nations (U.N.) Campaign brings together leading feminist thinkers in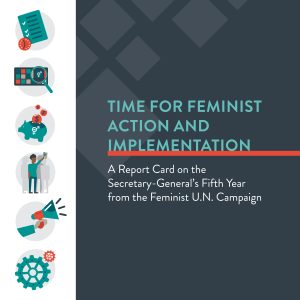 civil society, philanthropy, and academia, as well as former U.N. staff around a shared agenda for women's rights and gender equality at the U.N. Since 2017, our Campaign has been issuing annual report cards, grading U.N. Secretary-General António Guterres on his progress towards our recommendations for a more feminist U.N. system based on six criteria outlined in the report. 
In the final year of his first full term, we found the Secretary-General's progress towards implementing a more gender-equitable United Nations slowed in some areas. The Secretary-General's overall grade dropped to a "B-." A return to the same grade we issued in 2018 and 2019—demonstrating a significant need for improvement in his second term.