Uneven Progress Towards Feminist U.N.
When U.N. Secretary-General was elected to lead the United Nations in 2016, he pledged to be a champion for gender equality and women's rights within the U.N. System. The Feminist U.N. Campaign  — made up of women's rights organizations and advocates from civil society as well as former U.N. staff —took him at his word and offered a set recommendations articulating practical and transformative steps he could take to advance a more feminist United Nations.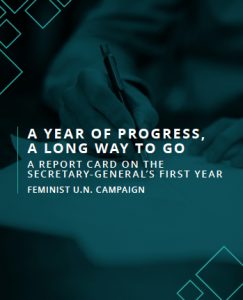 Today, the Feminist U.N. Campaign released their evaluation of his first year, giving him a C+ for his efforts.
"Secretary-General Guterres is making important strides and continues to be a genuine champion for gender equality," said Lyric Thompson, director of advocacy and policy at the International Center for Research on Women, which released the report on behalf of the Feminist U.N. Campaign. "But his most visible progress has been limited to only a couple of issues, not embracing the full-fledged women's rights agenda we called for."
The report card, A Year of Progress, a Long Way to Go, evaluates the Secretary-General's progress during his first year against the Campaign's recommendations for transformative change across the U.N. System. The report authors conducted in-depth interviews with U.N. experts, surveyed 118 organizations from over 40 countries and monitored the Secretary-General's speeches and appointments. The Campaign evaluated his efforts across six broad categories:
The development and implementation of a feminist agenda for the Secretary-General to advance during his term;
Strong implementation and accountability for the Sustainable Development Goals (SDGs), linked to women's rights instruments and forums;
Transparent and accountable financing for gender equality;
Women's leadership throughout the System, and protections for women's rights within it;
Stronger, and more feminist, women's rights institutions and forums in the United Nations; and
Increased freedom of information in the U.N. System.
The investigators found that the Secretary-General performed very well in the first and fourth categories, developing an agenda on gender equality and working to increase women's leadership throughout the System and at the highest levels. His appointments of Amina J. Mohammed as deputy secretary-general and creation of a new role of senior agenda advisor, held by Nahla Vajii, were particularly noteworthy in helping the Secretary-General hone and implement a women's rights agenda. His addition of the Executive Director of U.N. Women to his Executive Committee, which sets the policy agenda and decision-making of his administration, was also lauded.
Progress was less visible on Campaign recommendations to institute systemic changes including: ensuring that implementation and accountability of the Sustainable Development Goals prioritizes gender equality and is linked with women's rights instruments, increasing financing for gender equality and women's rights institutions in the U.N., and increasing transparency and dialogue with civil society and external audiences.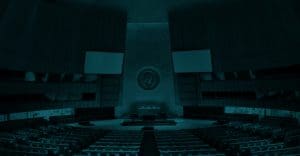 Report authors note that the Secretary-General is being held to a higher standard than previous Secretaries-General, due to his explicit commitment to fostering greater gender equity at the United Nations and applauded him for making important strides during his first year in office.
"Secretary-General Guterres's first year has honored his promise to develop a women's rights agenda, and has assembled an excellent team of female leaders who are going to help him achieve it," said Thompson. "Going into his second year, we hope to see momentum gathering behind his commitments to date and increasing uptake of our recommendations in women's rights issues he hasn't yet addressed."