How You Can Help
Support our efforts
to end
child marriage.
The practice of families forcing their daughters to marry as children – sometimes when they're as young as 8 years old – is common in the poorest parts of many low- to middle-income countries. In India, child marriage is illegal, but still occurs, and has declined only modestly over the past 15 years. The country remains among the top hot spots for the practice that robs girls of an education and, essentially, their childhood.
ICRW's latest work is part of a long commitment to studying the causes and consequences of child marriage. The organization also is a leader in identifying solutions that will eliminate the traditional practice. ICRW's current project in that vein will assess Apni Beti, Apna Dhan (ABAD) – which translates as "Our Daughter, Our Wealth" – one of the first "conditional cash transfer" programs the Indian government implemented specifically to delay girls' marriages.
Under a conditional cash transfer (CCT) program, governments or agencies provide regular payments to poor families, but only based on certain conditions. Most CCTs target behaviors related to health and education by, for example, requiring families to keep their children in school or fully vaccinating their children to receive the cash transfer. The programs are a growing phenomenon across the developing world and increasingly are viewed as a potential solution to poverty and its related problems, such as illiteracy and poor health. They also have been lauded for reducing economic inequalities, halting generational poverty and providing women – who often receive the payments – more decision-making power at home.
First implemented in Latin America, CCTs can be found tod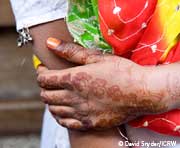 ay in more than two dozen developing countries, with programs operating nationally, regionally or for a specific population, according to the World Bank. Two of the largest and most successful CCTs are Brazil's Bolsa Familia, which serves 11 million families, or a quarter of the population; and Mexico's Oportunidades, which covers about 6 million families, or some 30 percent of the population. In both programs, eligible families receive monthly cash transfers if they meet certain conditions focused on health and education outcomes.
Currently there also are CCT programs in several developed countries. This includes New York City's Opportunity NYC, a 3-year pilot cash transfer program – the first initiated in the United States. An initial evaluation of the program garnered mixed reviews.
How India's Program Works
ABAD, however, is different than most CCTs worldwide.
The program began in 1994 in the northern state of Haryana as an economic incentive to delay girls' marriage and change how parents view their daughters, who are traditionally undervalued in Indian society. ABAD is unique because of its end-goal, and because the participating families – all of whom live below the poverty level or are from marginalized caste groups – don't receive cash deposits regularly.
"No other CCT in any other country has this focus of delaying marriage," said ICRW's Anju Malhotra, an expert on child marriage and adolescent girls. "This program was designed in part to also change the sex ratio in India; it's an incentive to encourage parents to value their daughters."
Here's how ABAD works: Upon the birth of a daughter – she has to be the first, second or third child in the family – mothers are entitled to receive 500 rupees (about $11) within 15 days of the birth to cover post-delivery needs. The government also invests 2,500 rupees (about $55) in a long-term savings bond in the girl's name, which can be cashed out for a guaranteed total of 25,000 rupees (about $550) after the girl turned 18 – but only if she isn't married.
ABAD's initial participants who enrolled in 1994, will celebrate their 18th birthdays next year. It will be the first opportunity to assess whether the cash incentive motivated parents enough to hold off on having their daughters marry.
That's where ICRW comes in. For its evaluation, ICRW experts will survey the girls and their parents who participated in ABAD – and those who didn't – to compare their attitudes about child marriage as well as determine whether the girls delayed marriage. Researchers also will analyze government records and data related to the program. The process kicked off last fall with project team members contacting government officials to confirm that they will be on board with the evaluation. Come September, ICRW will begin its qualitative survey of families.
"We have evidence that conditional cash transfer programs are very effective in keeping girls in school and getting them immunized, but we don't yet have proof that this strategy works for preventing marriage," said ICRW's Pranita Achyut, the program manager for the ABAD project. "If Haryana state's approach proves to be valuable, it could potentially be scaled up to make a significant difference in many more girls' lives – and not only in India."
ICRW's Efforts to Prevent Child Marriage
Indeed, ICRW is focused on finding ways to expand the few proven methods that prevent child marriage. It comes after more than a decade of working on the issue.
The organization first started addressing adolescent girls' well-being in the mid-1990s, and by the latter part of the decade, ICRW was part of two major projects – one in India, the other in Nepal – concentrated on improving girls' reproductive health. In the midst of that work, Malhotra said she and her colleagues noticed that girls were giving birth very early in their lives and suffering health complications from it. Most of the girls had been forced to marry at a very young age.
That's when ICRW started working on the ground to document the consequences of child marriage and figure out how to prevent it. Malhotra said that at the time, Population Council was the only other organization doing the same. "ICRW and Population Council have been the stalwarts on this issue for a long time, working in and alongside communities," she said. "Before, people were only interested in delaying marriage from a policy perspective, from a macro, population level."
Over the last decade, several organizations have turned their attention to the issue, including the Packard Foundation, CARE and Save the Children, among others.
ICRW's research evidence shows that preventing child marriage requires arming girls with information – about how their bodies work, what sex is, how to make sound, healthy decisions – while simultaneously educating their community and creating an environment in which alternatives to early marriage are supported. "What we're finding now is that this combination of information works. Girls do delay marriage. People's attitudes do change," Malhotra said. "But what we've been thinking for the last two to three years is, 'Well, this is great, but it'll take a really long time if we do this community by community.'"
With that, ICRW experts are concentrating on how best to replicate and grow programs that have been effective in preventing child marriage. India's CCT effort may well be one of the success stories.
"We want to look at solutions to eliminate child marriage that are on scale and sustainable, rather than just a flash in the pan," Malhotra said. "We want to examine infrastructure, incentives, government schemes – things that will work not just once, but many times, to the benefit of millions of girls."
Gillian Gaynair is ICRW's writer and editor.