ICRW mourns the loss of Stella Mukasa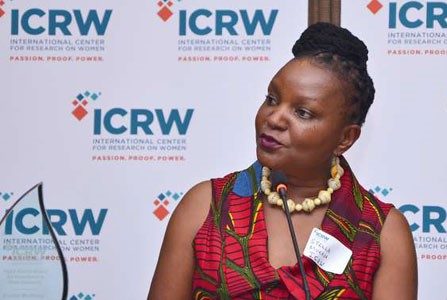 It is with great sadness that the International Center for Research on Women announces the passing of Stella Mukasa, Regional Director for Africa, after a long illness.
A human rights lawyer by training, a women's rights activist by nature, Stella sought to improve the human condition and focused her energies on eradicating the causes and devastating impacts of gender-based violence. She is revered in Uganda and throughout the region for her tireless efforts to create and enforce gender-responsive laws and policies. She played a key role in drafting Uganda's Domestic Violence Act and in mobilizing support for gender-responsive constitutions in Uganda and in Rwanda.
"Stella was passionate about the advancement of human rights and the empowerment of women, girls, and marginalized groups," said ICRW's Deputy Regional Director for Africa, Cleopatra Mugyenyi and Deborah Nakisuyi, Administrator, reflecting on their colleague. "Firm yet gracious, Stella's vision for Africa's women drove her work and infected all those she worked and engaged with. She was an inspiring leader in the women's movement – she will be missed."
Stella joined ICRW in 2012 and took up leadership of ICRW's program of research on violence, rights and inclusion. In 2015, she was appointed Regional Director for Africa, opening ICRW's regional office in 2016 in her native Uganda. Under her care and guidance, ICRW expanded its influence and impact launching new work on violence against children, strengthening capabilities of grassroots organizations addressing gender-based violence, and advising government, multilateral and non-profit stakeholders working to end violence.
"Stella's legacy will be felt by women across Africa, from the woman parliamentarian in Rwanda to the Ugandan widow able to provide for her family on land inherited from her husband," said ICRW CEO Sarah Degnan Kambou. "She was fiercely determined, deeply insightful and passionate about her work, and at the same time, she was a warm and generous colleague and friend."
Stella is survived by her husband, Apollo Nelson Makubuya, and their three daughters, Athena, Angela and Andrea. Together, Apollo and Stella have each made their mark on the lives of many in Uganda. Currently a partner at MMAKS Advocates, a corporate law firm in Kampala, Apollo has also consulted extensively in human rights and development law and is currently serving as Deputy Prime Minister of the Kingdom of Buganda.
ICRW is grateful for the life and work of our colleague Stella Mukasa. Our thoughts are with her family and friends.
We have been so moved by tributes to Stella that are coming in from colleagues around the world.
A Tribute to Stella Mukasa, ActionAid
Remembering our sister Stella Mukasa, African Women's Development Fund