Report Card on 2018 G7 Commitments to Gender Equality
In December 2017, Canadian Prime Minister Justin Trudeau promised unprecedented emphasis on women and girls over the course of this year's Group of Seven (G7) deliberations. As President of the G7 this year, Trudeau's agenda included five themes, one of which was the advancement of gender equality and women's empowerment.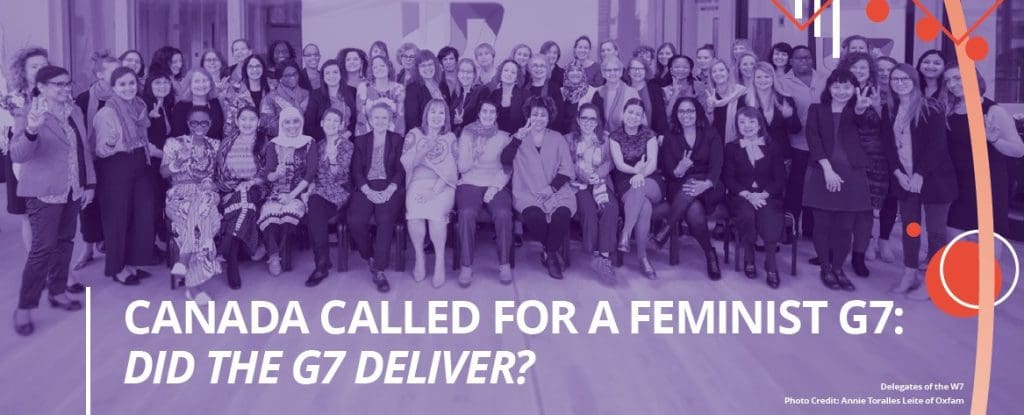 Besides a stand-alone priority, Trudeau stressed that gender equality and women's empowerment would be integrated in all other themes and throughout all ministerial meetings. To bolster his ambition to make progress on gender equality, Trudeau launched the Gender Equality Advisory Council (GEAC) – a council of 21 women's rights champions from around the world – who were tasked to advise him and provide robust recommendations to ensure that gender equality and a gender-based analysis are integrated across all activities of its Presidency. The council delivered on his call for bold, feminist proposals Canada could champion in its leadership of the G7.
These actions, in addition to Canada's support for the first feminist Women Seven (W7) Summit, whose delegates represented global, feminist, intersectional activists from G7 as well as developing countries, have elevated the G7's focus on gender—but did it achieve its goals of raising the bar on gender equality and delivering feminist outcomes? This report card measures Canada's progress in 2018 against stated goals, and will be used as the baseline to set expectations as we look ahead to France in 2019.