Since the debut of a Swedish Feminist Foreign Policy (FFP) in 2014, there has been increasing global discourse on this approach. In light of the COVID-19 pandemic, economic recession and global racial justice movements, the case for such an approach is more imperative than ever.
As part of its collaborative process to arrive at a vision of feminist foreign policy for the United States, the International Center for Research on Women undertook consultations with hundreds of feminists from more than 40 countries around the world. Time and again, we heard that a feminist foreign policy must defend the rights that are most politicized in international policy dialogues, chief among them, sexual and reproductive health and rights (SRHR).
Key Findings
Our definition of feminist foreign policy affirms the right to bodily autonomy for all genders and ages in line with international human rights standards. Bodily autonomy and the enjoyment of sexual and reproductive health and rights are essential preconditions to the meaningful participation of girls, women and gender-nonconforming people to the basic social, economic and political processes that define our societies. These include access to education, economic opportunities, and participation in peace processes.
The McKinsey Global Institute estimates that gender equality could add $28 trillion to the global gross domestic product—but according to their report, multiple SRHR issues must first be addressed. The United Nations Population Fund (UNFPA) estimates that COVID-19 will result in over 47 million women not being able to use modern contraceptives and predicts up to seven million new unplanned pregnancies around the globe.
Existing Feminist Foreign Policies and Sexual and Reproductive Heath and Rights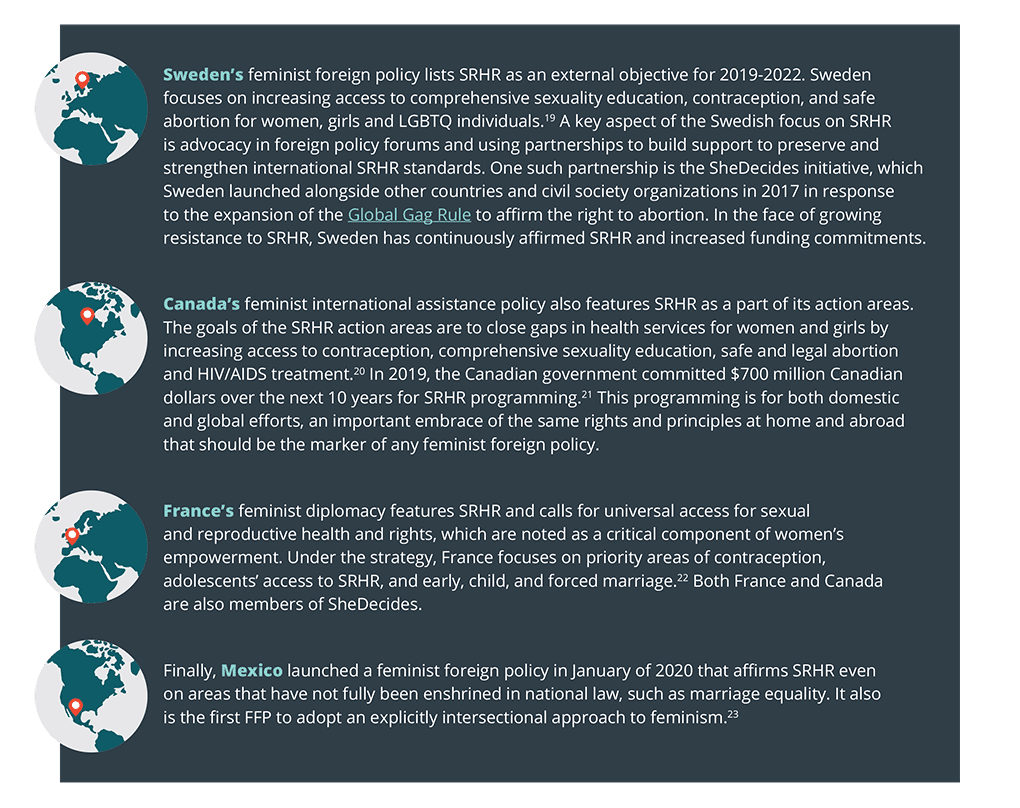 Key Recommendations
The President should announce that the U.S. will adopt a feminist foreign policy, to be co-created and implemented in consultation with feminists inside and outside of government.
Harmful policies should be removed and reversed by the Administration and Congress.
Comprehensive sexual and reproductive health and rights programs should be fully funded.
Individuals should be nominated and appointed for executive branch positions who are experts in their field and possess a positive record on reproductive health, rights, and justice.
Domestic and global COVID-19 response and recovery must ensure funding to address impacts on SRHR.
The Biden Administration should re-engage in multilateral leadership on sexual and reproductive health and rights.