The U.S. in search of gender equity: Policy lessons from around the world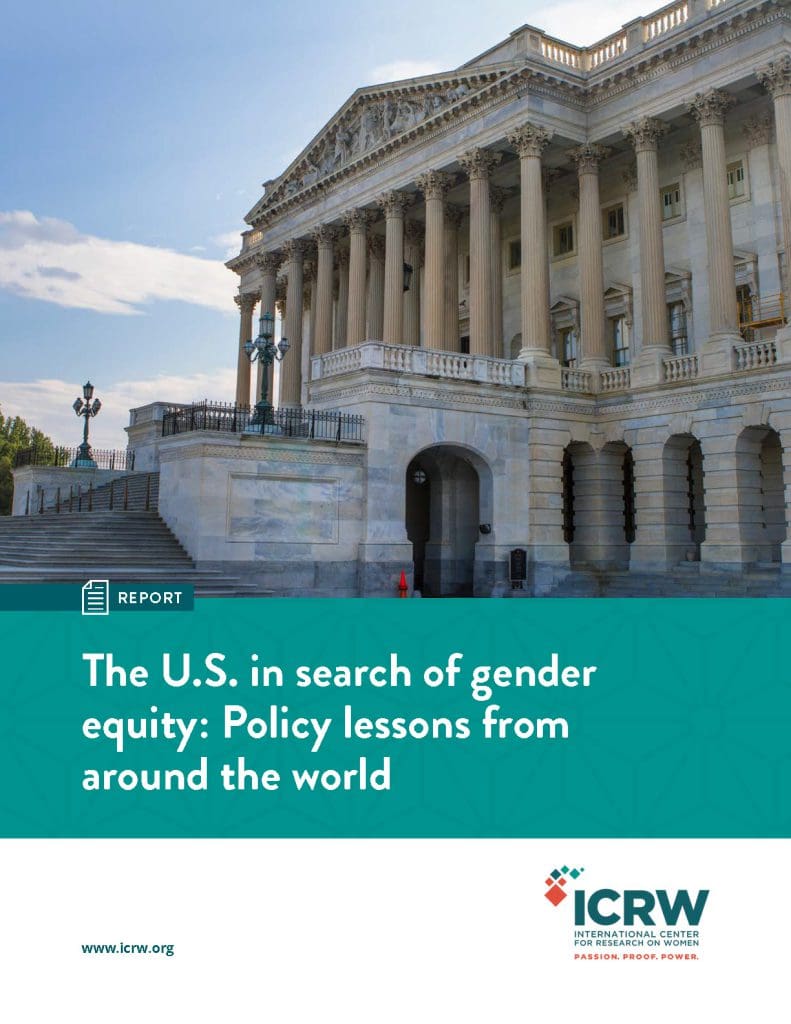 Promoting gender equity is smart development policy. Current efforts to understand how and why the world shrinks for some people and expands for others continue to underscore the far-reaching implications of gender inequity for women, men, girls, boys, and people of all gender identities. Global evidence on effective gender equity policies is needed to support worldwide learning, inspire action, and guide additional policymaking. Funded by the Robert Wood Johnson Foundation, this report presents the findings of a global scan of effective and promising gender equity policies that can inform and inspire current efforts in the United States (U.S.) to improve socio-political, economic, educational, and health outcomes for all.
Countries included in the scan were identified using the Global Gender Gap Index, a composite measure of several indicators in health, education, economy, and politics, used to track progress on the gaps in these domains between women and men globally.  In areas where the index measures were less relevant to the U.S. context (health and education), we instead relied on other global measures.
What We Learned
Generally, the gender equity policies discussed in this report share a few significant similarities.  They were commonly heralded by comprehensive national commitments to gender equity that were often explicitly articulated through formal state policy frameworks or strategies; were often complementary and integral to wider national policy goals of tackling large-scale gender-based imbalances in specific development areas; and, were most times, implemented in countries characterized by continuing high levels of women's representation in political positions.  In their formulation, implementation, and ongoing improvement, the identified effective gender equity policies combined top-down and bottom-up approaches, requiring frameworks set by government as well as the active participation of critical stakeholders at multiple levels. The policies also frequently blended actions that are urgent with strong commitments to ongoing learning and future reforms, and often had a targeted focus on groups most likely to left behind, in the search for solutions to a broad range of barriers to equitable participation in national socio-economic and political life.
With respect to the specific domains covered in the review, our study showed that Iceland and Rwanda have achieved near equal participation and representation of women in top political positions through electoral gender quotas policies. Countries such as Iceland, Spain, and Nicaragua have expanded women's economic participation and opportunity through policies  that support paid family leave, women-targeted credit schemes, protection of the rights of migrant workers, opportunities for career advancement for low-wage workers and closing gendered wage gaps.
Lessons for the U.S.
These and other findings present important lessons for gender-equity policymaking in the U.S.  Given the experience of other countries, U.S. gender equity stakeholders, including policymakers must see the country's first National Strategy on Gender Equity as a lifetime opportunity to be part of creating lasting gains in all spheres of the country's life. The findings suggest that U.S. policymakers must prioritize an integrated policy approach to gender equity policymaking, avoid patchworks of unconnected public policies, pursue participatory gender equity policy making and implementation approaches, and give precedence to gender equity policies that respond to urgent injustices while ensuring responsiveness to changes over time and integrating learning for improvement and reforms. Moving forward, U.S. policymakers also need to focus policy interventions on promoting women's representation in high-level political and legislative bodies at all levels of U.S. government as a demonstrable strategy for tackling the most urgent drivers of gender disparities in health, earnings, training, and access to economic opportunities, advancement, and workforce participation.
While primarily addressed to U.S. policy actors, the insights contained in this report have wider relevance.  The report offers the global community of gender equity stakeholders, program implementers, and leaders and organizations critical global lessons for advancing gender equity.  Coming at a time of growing awareness that the world's most pressing issues require collaborative learning for sustainable solutions, this report is an opportunity for countries and policy actors to learn from and adapt best ideas and proven practices from other world contexts.
Read the full report by clicking below.
---
Watch an event hosted by the Robert Wood Johnson Foundation, where we discussed this report and lessons learned from policies worldwide.
Publication Rights:
Izugbara, C., Marlow, H., Hinson, L., Anderson, E., Leasure, E., and Roth, C. (2022). The U.S. in Search of Gender Equity: Policy Lessons from Around the World. Washington D.C.: International Center for Research on Women.
ACKNOWLEDGEMENTS
We would like to thank all our reviewers for taking the time to offer comments and insights on various drafts of this report. Support for this project was
provided by the Robert Wood Johnson Foundation. The views expressed here do not necessarily reflect the views of the Foundation.