Impact of P.A.C.E. on WASH Behaviors: Program Evaluation in Madhya Pradesh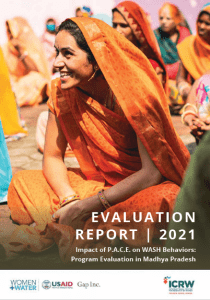 Gap Inc. and the U.S. Agency for International Development (USAID) partnered in 2017 to launch the Women + Water (W+W) Alliance, a Global Development Alliance to improve the health and well-being of women and communities touched by the apparel industry. In particular, the Women + Water Alliance aims to increase access to safe water supplies and improve sanitation and hygiene practices. Through the Personal Advancement & Career Enhancement (P.A.C.E.) curriculum with women in the community, the program aims to enhance women's agency and self-efficacy in WASH (water, sanitation and hygiene) decision-making. CARE India conducted P.A.C.E. trainings with women in Madhya Pradesh (MP) and Maharashtra and International Center for Research on Women (ICRW) evaluated the impact of P.A.C.E. training with women.
Evaluation of the P.A.C.E. program has established that it is effective in building women's knowledge, skills and ability to navigate and negotiate at home and at the workplace (Nanda et.al., 2013). Unlike the usual pre-post study design where the baseline survey is conducted prior to the intervention, the first round of survey in this study was conducted soon after completion of the training as the objective was to examine two factors. First, the influence of P.A.C.E. training outcomes on adoption and maintenance of WASH behaviors. Second, to understand how women use both WASH knowledge and the life skills that they receive from P.A.C.E. to
amplify their voice and take part in decision-making in the household.
The evaluation was conducted in two phases – baseline (first phase) and endline (second phase),
in three districts of Madhya Pradesh: Dhar, Khandwa & Sehore. The baseline was conducted
between Sept.- Dec. 2019, immediately after completion of the P.A.C.E. curriculum. The endline
was conducted in February 2021 that was originally planned after one year from baseline (i.e.
September 2020) but was delayed by five months due to COVID-19 pandemic. The same cohort
of women who participated in the baseline were interviewed at the endline.
Publication Rights:
The research reported in this publication was conducted as part of the Women + Water Alliance undertaken by ICRW Asia. The Women + Water Alliance is a global U.S. Agency for International Development (USAID) cooperative agreement to Gap Inc. The facts and information in this report may be reproduced/quoted/cited only for non-commercial use and with appropriate attribution.