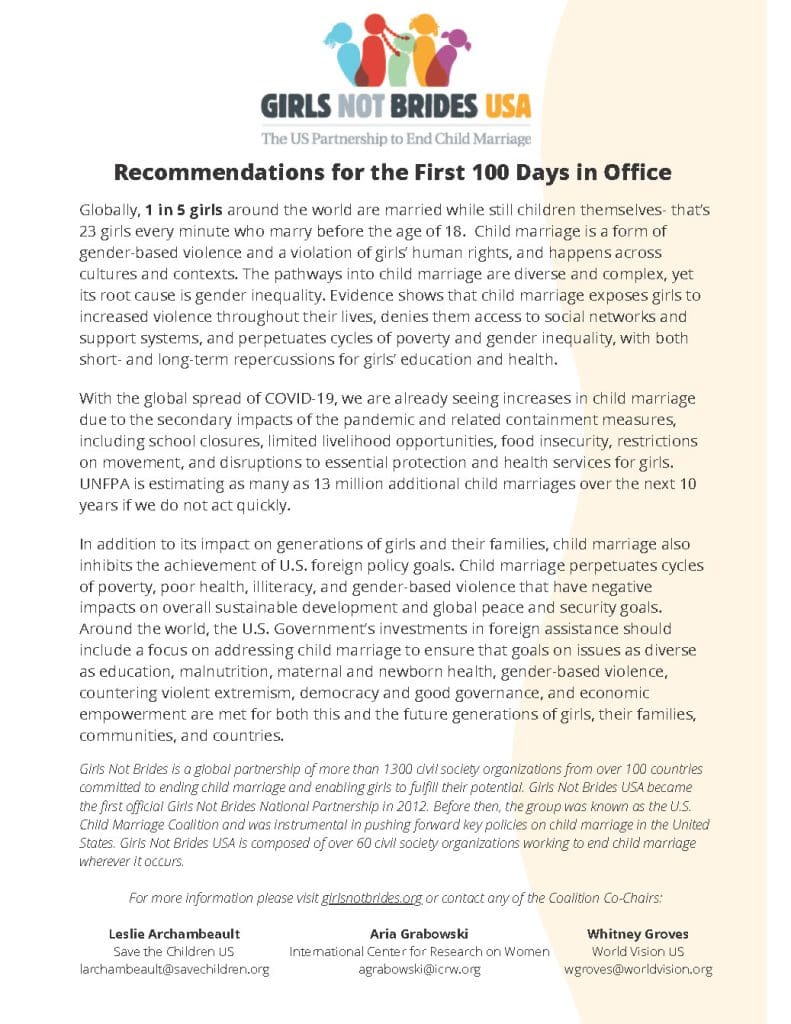 Globally, 1 in 5 girls around the world are married while still children themselves — that's 23 girls every minute who marry before the age of 18. Child marriage is a form of gender-based violence and a violation of girls' human rights, and happens across cultures and contexts. Evidence shows that child marriage exposes girls to increased violence throughout their lives, denies them access to social networks and support systems, and perpetuates cycles of poverty and gender inequality, with both short- and long-term repercussions for girls' education and health.
With the global spread of COVID-19, we are already seeing increases in child marriage due to the secondary impacts of the pandemic and related containment measures, including school closures, limited livelihood opportunities, food insecurity, restrictions on movement, and disruptions to essential protection and health services for girls.
In addition to its impact on generations of girls and their families, child marriage also inhibits the achievement of U.S. foreign policy goals. Child marriage perpetuates cycles of poverty, poor health, illiteracy, and gender-based violence that have negative impacts on overall sustainable development and global peace and security goals. We applaud commitments already made to promote U.S. global leadership and to champion girls' empowerment in U.S. foreign policy and assistance, and we urge the next administration to continue to elevate the voices and needs of girls and young women globally.
Key Recommendations
Specifically, we would like to recommend five ways for the next Administration to promote the rights and empowerment of girls at risk of child marriage and already married girls in its first 100 days of office:
Establish an inter-agency working group through executive order to review and improve the effectiveness and coordination of U.S. government efforts to end child marriage and address the needs of married girls globally.
Prioritize addressing child marriage holistically in the U.S. Government global COVID-19 response and recovery efforts by applying a gender lens across all efforts, and by ensuring specific funding and programming to prevent child marriage and respond to the needs of married girls.
Demonstrate high-level global commitment to ending child marriage and responding to the needs of married girls by announcing it as a U.S. foreign policy and assistance priority during the 65th session of the Commission on the Status of Women in March 2021.
Issue guidance from the National Security Council (NSC) to relevant agencies for civil society consultations that prioritize the safe and meaningful participation of adolescent girls, including girl-led groups and networks.
Include funding for global programming in the President's Budget Request that addresses the unique and intersecting needs of adolescent girls at risk of child marriage and already married girls, including:

No less than $30 million should be dedicated to the implementation of a coordinated and comprehensive effort to end child marriage and meet the needs of married girls in alignment with the United States Strategy to Empower Adolescent Girls. This should be in addition to funding specifically to address the increased need due to COVID-19.
These funds should include a commitment to the U.S. commitment to the joint UNICEF/UNFPA Global Program to End Child Marriage, which has generated remarkable results addressing child marriage in 12 of the most high-prevalence or high-burden countries. This commitment must be commensurate with the increased needs due to COVID-19.
Read the full report below: