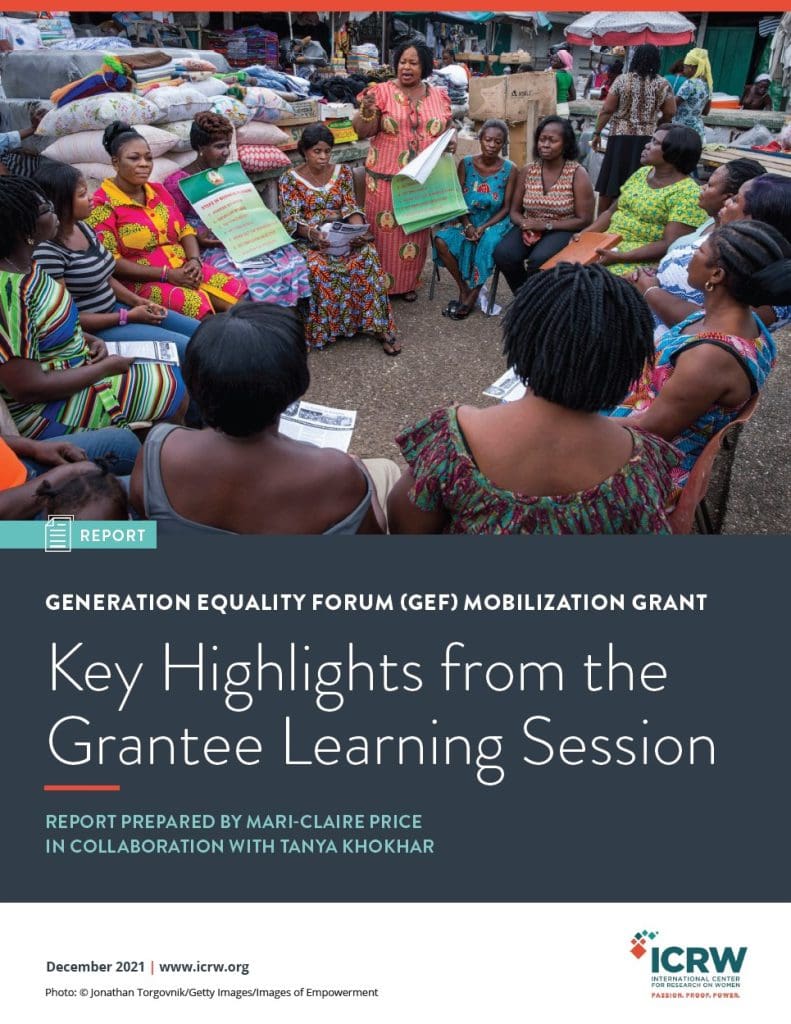 ICRW partnered with the Bill and Melinda Gates Foundation (BMGF) to advocate for policy commitments across the six action coalition themes and the Compact on Women Peace and Security for the Generation Equality Forum (GEF). ICRW engaged governments, civil society, and other GEF partners through policy analysis, evidence-based research, and technical support to help drive bold, ambitious and evidence-based commitments to advance gender equity.
As part of this work, ICRW supported four partners to lead an intensive, five-month period of advocacy and coalition work, encouraging governments to make and implement commitments under the following Action Coalitions: Economic Justice and Rights, Sexual Reproductive Health and Rights (SRHR) and Bodily Autonomy, Gender-Based Violence, and Feminist Movements and Leadership. Through these grants, ICRW aimed to support meaningful civil society engagement in the GEF process and strengthen collective action, advocacy and organizing to mobilize political will to advance gender responsive policies, laws and budgets, and COVID-19 recovery plans, among other commitments.
In October 2021, a learning session with grantee partners was convened by ICRW to share progress in the projects, reflect on the challenges and key lessons, and discuss emerging issues and trends, in relation to their advocacy and mobilization towards the implementation of GEF in different contexts.
Learn more about the key highlights from the learning session by clicking here or on the button below.