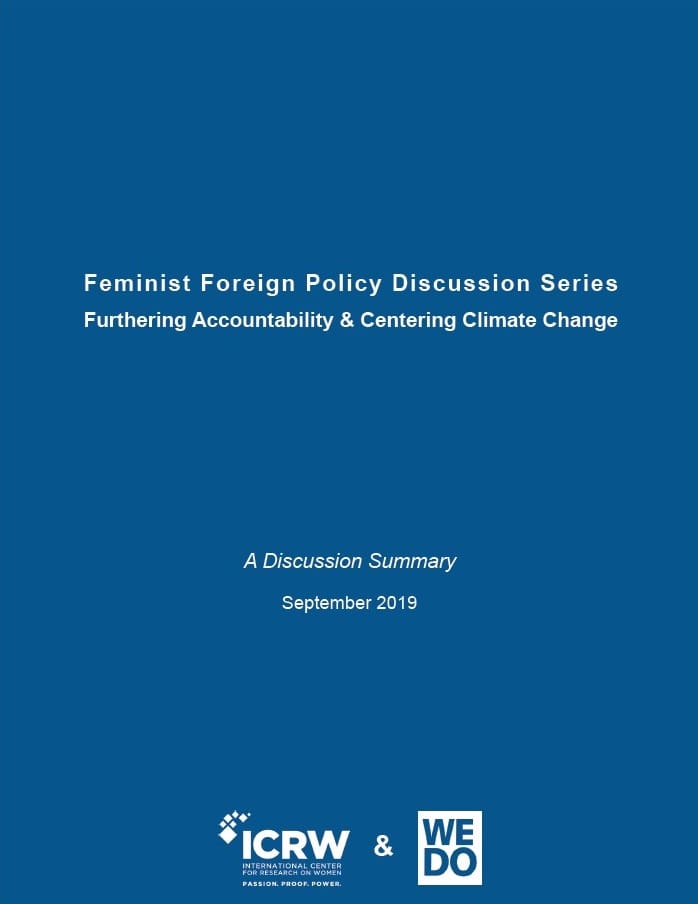 With the recent launch of explicitly-labeled "feminist" foreign policies (Sweden 2014, France 2019) and international assistance policies (Canada
2017), ICRW has undertaken a stream of research and policy analysis to understand how countries are structuring their efforts and a series of global consultations to document feminist civil society's visions and recommendations. The aim is to set a global standard for feminist foreign policy (FFP) that centers feminist visions and adheres accountability to its goals.
As part of this work, ICRW and the Women's Environment and Development Organization (WEDO) convened a discussion on June 5, 2019 at the
Women Deliver Conference in Vancouver, Canada. These conversations delved deeper into the topic of climate change and theorized how feminist foreign policy could be structured to ensure not only the advancement of gender equality and women's human rights but environmental integrity, especially in the context of a global climate crisis that disproportionately impacts women and minority groups.
The discussion included approximately forty civil society feminists from Australia, Bolivia, Canada, Costa Rica, Fiji, Ghana, India, Jamaica, Kenya,
Lebanon, Malaysia, Mexico, Netherlands, Pakistan, Sri Lanka, Tanzania, the United Kingdom and the United States. Ahead of the convening, participants were provided with a reading list that included Sweden's Feminist Foreign Policy, Canada's Feminist International Assistance Policy (FIAP), a paper by Oxfam Canada outlining principles and recommendations for feminist aid and two papers by ICRW. One of ICRW's papers summarizes Swedish, Canadian and French policies and attempts to distill a draft definition of feminist foreign policy. The second paper articulates outcomes of a consultation among 40 global feminists that lay the groundwork for developing key principles and accountability mechanisms intended for use in crafting feminist foreign policies in the future.
Read the discussion summary by clicking on the button below.