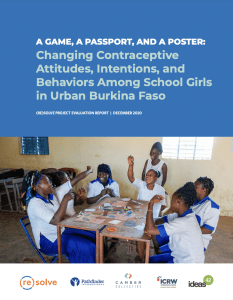 Family planning (FP) plays a uniquely powerful role in enabling women and men to achieve their desired family size and build more equitable societies. And yet, global family planning programs remain at risk due to funding gaps and limitations in assumptions about what prevents women from using contraception.
In this context, the (re)solve project used data on and insights into women's and girls' barriers to contraceptive use and nonuse to design and test a unique solution set in three focus countries: Bangladesh, Burkina Faso and Ethiopia.
In Burkina Faso, where the project focused on unmarried girls, this solution set consisted of a participatory board game (La Chance) that corrected myths and misconceptions and increased pregnancy-risk perception; a health passport that eased girls' access to health facilities; posters in health facilities that normalized consultations for adolescent girls; and name tags that identified youth-friendly health care providers. Participating health care professionals were also trained on how to provide youth-friendly services and oriented them to the solutions and their rationale.
The following report provides the evaluation results from the (re)solve project in Burkina Faso: