Parivartan
In Hindi, parivartan means "transformation", which is precisely what the program aims to achieve. More specifically, the program's goal is to prevent gender-based violence by enhancing awareness about abusive and disrespectful behavior; promoting gender-equitable, non-violent attitudes; and building young people's skills to speak up and intervene when witnessing harmful and disrespectful behaviors.
Violence, inequality and gender discrimination have a lasting impact on adolescents, compromising their health and limiting their opportunities and aspirations. ICRW believes in encouraging adolescents to recognize and challenge unequal gender norms to enable a healthy transition to adulthood and to move toward an inclusive and more equitable world.
Parivartan, as a program at ICRW, is a sports mentoring program, which uses a role model approach and integrated teaching-learning opportunities, or "teachable moments", that engage adolescents to discuss and reflect on gender attitudes and behaviors and encourage them to question prevailing gendered practices and the use of violence.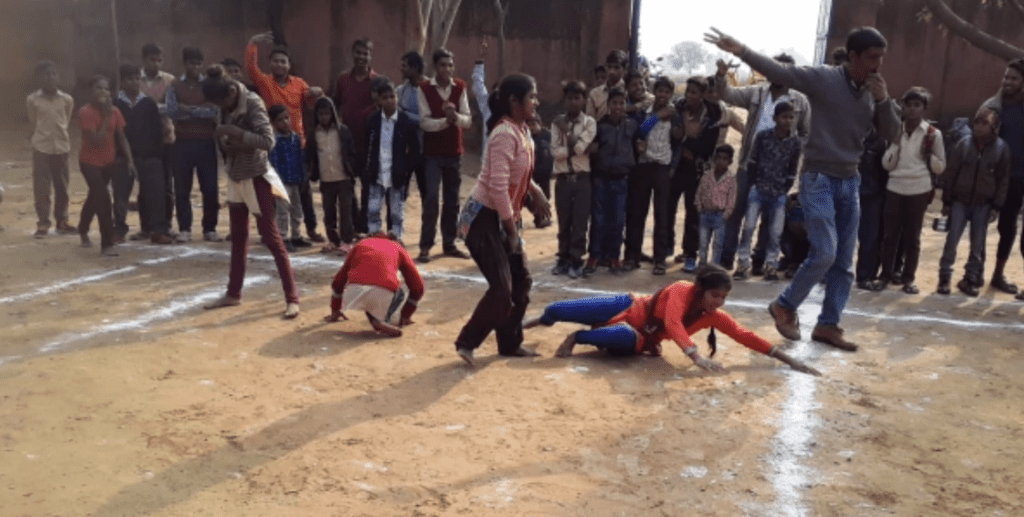 The Parivartan intervention empowers adolescents to be active participants in sports, feel empowered rather than restricted in public, and to claim their own space while standing up to violence. The intervention helps adolescents:
improve physical fitness;
ensure safe public spaces; and
initiate open conversations on everything from gender, violence and sexual harassment to life skills, education and sexual and reproductive health.
Through our partnership with Futures Without Violence, Parivartan has been adapted for adolescent boys as Parivartan: Coaching Boys into Men, which has a focus on the sport of cricket. The program has also been extended to Parivartan Plus or Parivartan for Girls, which utilizes the traditional Indian contact sports of kabaddi and football to instill these concepts and propel a collective shift in mindset toward gender equality.
Currently, ICRW Asia is implementing the Parivartan intervention as part of the UMANG program, being implemented across two districts — Godda and Jamtara — in Jharkhand, India. The program is reaching out to 20,000 adolescent girls, mostly from marginalized communities, and is expanding in the region.
The History & Legacy of Parivartan
ICRW Asia previously implemented Parivartan for Girls in Shivaji Nagar, Mumbai, India, in collaboration with a community-based organization called Apnalaya. Over a 15-month period, program specialists coached a total of 150 girls.
Working with the London School of Hygiene & Tropical Medicine (LSHTM), ICRW:
conducted a process evaluation, capturing the changes in attitudes and behaviors of girls, their families, mentors and the broader community;
documented implementation challenges; and
analyzed potential shifts in social and gender norms and expectations.
Study results from this project indicated the program did, in fact, shift norms that restrict the public mobility of girls, constrain their education and future options, and reinforce gender inequality.
Promoting Adolescents' Engagement Knowledge and Health (PAnKH)
Under ICRW Asia's PAnKH program, the Parivartan intervention was implemented across three blocks of Dholpur district in Rajasthan. The intervention reached out to approximately 8,000 girls (aged 12-19 years) through kabaddi sessions.
Legacy
Parivartan was first implemented in 2008, across 45 schools in Mumbai, India with adolescent boys and young men through the program Parivartan: Coaching Boys into Men. It used the influence of young cricket coaches as role models for adolescent boys to talk about gender equality and change behaviors with respect to gender-based violence and harassment. Coaches were trained to promote gender-equitable attitudes among young athletes aged 10-16 years, while teaching them about respect for girls and women.
ICRW released findings from the program in May 2012: Engaging Coaches and Athletes in Fostering Gender Equity. The study sought answers to three key questions:
What changes occurred in gender and violence-related attitudes, perceptions and behaviors among the Parivartan athletes?
What effects did participation in the training and the overall program have on the coaches?
What changes did the wives, mothers, or daughters of the coaches and mentors perceive as a result of the men's participation in the program?
Study results highlighted a distinct positive shift in the attitudes of athletes as well as coaches and mentors toward gender equity and counter to violence against women, a promising indication of meaningful behavioral change.
Below are links to additional stories, blogs and more about ICRW's Parivartan program.
Stories:
Changing for the Better – A story illustrating how ICRW strives to reduce violence against women in India by working with boys and young men through the Parivartan program. (May, 2010)
The Sport of Respect – A photo slideshow of coaches and athletes in Parivartan. (May, 2010)
The Ambassador – A profile of a Parivartan participant. (June, 2010)
Parivartan Launches New Campaign – A story about an interactive mobile campaign to spread messages about gender equality and preventing violence against women. (Feb., 2011)
ICRW's Parivartan Featured at Sports and Social Change Forum in Mumbai – Results from the Parivartan program are presented during of attended by India government representatives and UN Women, among others. (May, 2012)
Boys Attitudes Shift about Manhood, Violence Against Women – An overview of findings from ICRW's evaluation of the Parivartan program. (July, 2012)
Blogs:
A Coach Inspires (Jan., 2011)
Moving the Goal Posts for Girls (Dec., 2011)
Using Cricket to Talk About Gender Equality (Featured in The Huffington Post, Aug., 2012)
Media coverage:
Growing Boys Into Men (The Hindu)
Study: Games Can Raise Awareness on Gender Issues (The Times of India)
On an Equal Wicket (The Hindu)
How to Treat a Woman: Sachin Shows the Way (The Times of India)
Extra Resources from ICRW's work through the STRIVE program