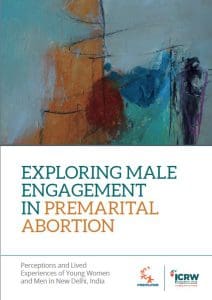 A new report released today from Promundo and the International Center for Research on Women (ICRW) sheds new light on how stigma, social norms and masculine stereotypes influence men's involvement in decision-making and behavior around abortion with their partners.
In India, unsafe abortion is the third leading cause of maternal death and it contributes 8 percent to all such deaths each year. Even though unmarried women in India have the legal right to abortion, they face challenges because of the secrecy, shame and stigma associated with premarital sex and abortion, in addition to difficulties accessing information and services.
In light of these challenges, as well as a lack of existing research on the abortion journeys of young men and women outside of marriage, Promundo and ICRW conducted a qualitative study to investigate young men's attitudes, perceptions and experiences as partners in relation to premarital abortion in New Delhi.
The study included in-depth interviews with young women seeking abortions and their male partners, six focus group discussions with young men and young women and key informant interviews with experts and service providers in New Delhi in 2018. To unpack the socio-economic factors that influence the perceptions, attitudes and experiences of young people, participants were recruited from diverse socio-economic contexts.
"For too long, oppressive gender norms have forced women to carry the burden of reproductive health care," said Sapna Kedia, ICRW technical specialist and lead author of the study. "Our study shows that men want to support their partners when it comes to decisions around contraception and pregnancy. When we engage with men around pregnancy and abortion, we improve sexual and reproductive rights for all."
Watch Sapna discuss the findings with ICRW Asia Regional Director Ravi Verma.