On September 18th, 2017, ICRW conferred the 2017 Champion for Change Innovation Award on Dr. Rajiv Shah, President of the Rockefeller Foundation.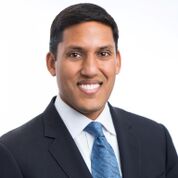 Dr. Shah brings over twenty years of experience in business, government and philanthropy to The Rockefeller Foundation.  Appointed as USAID Administrator by President Obama in 2009, Dr. Shah was charged with reshaping the $20 billion agency's operations to provide greater assistance to pressing development challenges around the globe. Shah secured bipartisan support that enabled USAID to dramatically accelerate its work to end extreme poverty. Two significant Presidential priorities – Feed the Future and Power Africa – passed the House and Senate with bipartisan support.
Dr. Shah is a graduate of the University of Michigan at Ann Arbor, the University Of Pennsylvania School Of Medicine, and the Wharton School of Business.  Prior to his appointment at USAID, Shah served as Chief Scientist and Undersecretary for Research, Education and Economics at the United States Department of Agriculture.  He also served in a number of leadership roles at the Bill & Melinda Gates Foundation, where he helped launch the Alliance for a Green Revolution in Africa (a joint venture by the Gates and Rockefeller foundations) and the International Financing Facility for Immunization (credited with raising more than $5 billion for childhood immunizations worldwide) and where he supported the creation of the Global Development Program.