Leadership at all levels
Article Date
11 April 2011
Though the practice affects thousands of girls every day, child marriage has only recently received the global attention it deserves. You may have read the story in National Geographic or heard about the launch of the Girls Not Brides campaign at the Clinton Global Initiative in September. High-profile individuals like Archbishop Desmond Tutu have helped to lift the veil on the consequences of child marriage, which have been extensively researched and include higher maternal mortality and a greater risk of HIV and domestic violence.
Now that the problem has garnered attention on the global stage, what can be done to solve it? We already have examples of programs that encourage change at the community level, many of which are detailed in ICRW's recent publication, "Solutions to End Child Marriage: What the Evidence Shows." And there are efforts such as  Berhane Hewan in Ethiopia, DISHA and PRACHAR in India, that are helping to empower girls and community members with information, skills and support to delay when girls marry.
But we need support from policymakers to ensure that change at the community level translates into shifts in child marriage trends nationally and globally. If we are going to reach the 60 million girls at risk of marrying before they turn 18 in the next decade, national governments must introduce and enforce minimum age of marriage laws. They must incorporate child marriage prevention activities into existing large-scale programs in the education, health and economic sectors – as they have done in countries like Bangladesh.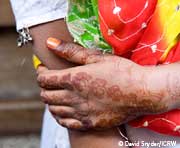 Also, donor countries such as the United States must support nations committed to eradicating child marriage and pave the way for programs that can provide alternatives for families who want their daughters to finish school and delay marriage. To that end, Rep. Betty McCollum (D-Minn.) on Nov. 3 reintroduced the Child Marriage Violates the Human Rights of Girls Act of 2011 (H.R. 3357) in the House of Representatives – legislation that has been introduced, but not yet passed, in every session of Congress since 2006. A similar version was reintroduced in the Senate earlier this year.
Rep. McCollum's legislation hopefully will keep this issue top-of-mind for her colleagues on Capitol Hill. But there are many things that the U.S. administration can do right now to stop child marriage, without having to wait for legislation to pass. The U.S. needs to develop a government-wide strategy for preventing child marriage and providing necessary services for married adolescents. This strategy should focus U.S. investments in regions where rates of child marriage are highest and coordinate activities among the various entities that administer foreign assistance. It should come backed with committed funds to support these activities.
Furthermore, the U.S. government must continue to provide development assistance to reduce poverty, promote access to education and facilitate economic growth. Poverty is one of the greatest drivers of early marriage, and with more opportunities attend school and participate in the work force, parents and young women will have more options for their futures.
Ending child marriage demands leadership at all levels, from the local teacher or religious leader who wants young girls in the community to get an education, to the policymakers who realize that child marriage is a drag on development overall. ICRW applauds Rep. McCollum's tireless efforts to secure support from her Congressional colleagues to end this practice. We hope it encourages the U.S. government to take serious action to prevent child marriage and help girls around the world lead better lives.
ICRW Gender and Policy Specialist Ann Warner contributed to this blog.