CSW feature: engaging young men in the battle against gender-based violence
Article Date
13 March 2013
Natko Geres and Vojislav Arsic have a lot in common. Both 28, the two young men share a taste for popular urban culture. Some of their earliest memories are also the same. They were both six-years-old when war erupted in the former Yugoslavia. On opposing sides of the frontline in those dark days – Natko in Croatia and Vojislav in Serbia – the two have come together in the post-conflict era to fight a new battle.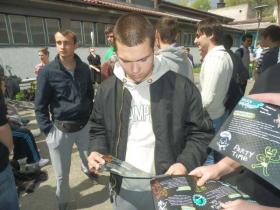 According to both men, a pervasive culture of 'machismo', few job opportunities and the residual effects of the war have all made youth in the Balkans vulnerable to violent, unhealthy behaviors. Natko and Vojislav are determined to turn the tide by putting the next generation of men on a course towards a better future, for themselves, and for society as a whole.
"Structures in society support 'machismo.' To be a 'real' Croat, to be a 'real' man, is to be 'macho.' There's no difference if a man beats on his wife in Croatia or Germany. The difference is that, even if he's running for office, he could still get votes in Croatia," Natko explained during a recent visit he made to Washington, DC. "Our politicians say we need to solve bigger issues in society first, but working on these dangerous behaviors now will actually help fix society."
Natko and Vojislav are both directors of local nongovernmental organizations taking part in an innovative program called the Young Men Initiative (YMI) run by CARE North-West Balkans and funded by the Norwegian government. Operational in Bosnia-Herzegovina, Croatia, Kosovo and Serbia, the program—adapted from Promundo's Program H curriculum—reaches young men ages 15 – 19 through school-based activities and media campaigns that address social norms around gender and promote healthy lifestyles and prevent violence. YMI includes workshops about gender equality, sexual and reproductive health, emotional well-being, substance abuse, and violence and conflict resolution.
Understanding the social norms and expectations that contribute to violent behavior among men can help shape interventions that aim to change attitudes and reduce violence – an area of research that ICRW has focused on in recent years. ICRW's Brian Heilman today addressed the importance of engaging men and boys in the effort to end gender-based violence during a United States-sponsored panel discussion at the UN's 57th Commission on the Status of Women in New York. 
ICRW conducted formative research with young men in the Balkans to understand prevailing attitudes about what it means to be a man. Findings were applied to inform the design of YMI's pilot intervention, which ICRW evaluated in 2010. Currently ICRW is evaluating YMI Phase Two, which evolved based on the findings from the pilot intervention. Results from the impact evaluation are being used to influence global dialogue around youth policy and programming.
For the time being, Natko and Vojislav have witnessed real change in some of the young men who have taken part in the program. YMI initiatives like the Budi Musko – 'Be a Man' – campaign which aims to redefine what it means to be masculine, and youth camps that bring together adolescents from Balkan countries previously at war, are making a difference.
Vojislav was especially struck by the transformation of a young Serbian man who at first resisted the program, expressing extremely aggressive and violent views towards others who were not like him.
"We try to provide a creative environment, and showed him that he can start using his own brain, not just accept what society tells him. At first he didn't want to go to the youth camp in Croatia and said his friends would bully him if he did. But he went and made a best friend from Zagreb [in Croatia] and another one from Bosnia," Vojislav said. 
"This really inspired me. I've worked on other projects, on HIV/AIDS and other issues before but this is the first time I really can see people changing through the course of it. We are really seeing results."