Challenging stereotypes and changing minds through sports
Article Date
18 April 2014
On June 12th, tens of millions of eyes will be on Brazil, as countries vie to take home the World Cup's shiny gold trophy and with it, the respect of soccer fans around the world.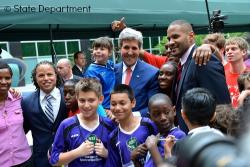 As buzz about the World Cup begins to hit the U.S., the State Department this week held its own event to unveil the trophy.  Importantly, Secretary of State John Kerry, Vice President Joe Biden, representatives from Brazil, and soccer stars alike also addressed the power that sport bears in bringing people together, regardless of culture, background, or religion.
Every year, sports envoys, like soccer's Cobi Jones and baseball's Cal Ripken Jr., travel to locations around the world to talk about sports, community, and equality as part of a State Department initiative. A main component of the sports envoy mission is to empower women and girls.
The State Department is doing great work to bring attention to important issues, but they're not the only organization tapping into sports programs as a means to educate populations about social issues and empower women and girls. For years, community groups have used sports, like cricket and soccer, to bring about social change.
For example, in Egypt, an innovative program attempts to reach girls who are out of school and vulnerable to early marriage, sexual violence, and poverty. The program, called Ishraq or "enlightenment" in Arabic, gives girls unique opportunities, filling them with confidence, and ultimately, works to change the community's views on girls and early marriage. One main component of the program uses sports and recreation, including table tennis, as a way to break taboos and to help girls develop healthy attitudes about their self-worth and ability to overcome challenges.
The Ishraq program helps girls re-enroll in school, gain critical skills like how to read and add, which will help their job prospects in the long term, and gives girls the tools they need to become confident to make decisions on their own. This sort of empowerment can literally transform the way a girl sees herself and her future.
Parents of girls who participated in the Ishraq program have told ICRW researchers that thanks to the program, they have noticed a change in their daughters and begin to see them as valuable members of the family. This change in behavior and attitudes is a critical piece of the larger puzzle to help families understand the value of girls. With the girls' newfound confidence, plus their parents' support to pursue further education, the girls' futures have literally changed course.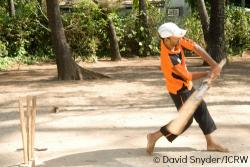 Another program, Parivartan, uses a sports mentorship program in India to transform gender norms of boy athletes ages 10 to 16. The program engages cricket coaches as positive role models to deliver messages to young male athletes about the importance of respecting women and helps to educate boys that violence never equals strength. Using sports, videos, brochures, and group discussions, the mentors created a safe space to raise awareness about abuse and violent behavior and teaches boys about the importance of intervening when they witness harmful or abusive behavior.
As a result of the program, attitudes about violence and gender norms changed. While this program focuses on men and boys on a small scale, the results can have ripple effects in changing the way that society views girls' worth.
The next phase of this study, known as 'Parivartan +', seeks to create a safe and enabling community environment for girls to participate in sports and to improve girls' self-esteem, challenge social norms about girls' worth, and ultimately, to empower girls to continue their education and delay marriage.
As the sports envoys stressed, we have seen time and time again that sports can be a powerful tool to bring communities together, to teach men and boys about the importance of supporting and empowering women, and to give girls the confidence and agency to choose their own path in life, whether it be a sports star, a teacher, or a doctor.