Header photo: Paula Bronstein/Getty Images/Images of Empowerment
A conversation with:
Cassandra Jessee, Director and Senior Advisor at ICRW
Laura Hinson, Social and Behavioral Scientist, ICRW
Meroji Sebany, Gender and Health Specialist, ICRW


May 2020 marked the culmination of a 5-year USAID-funded project led by Making Cents International—YouthPower Learning—that aimed to build the evidence base the global community needs to understand and implement positive youth development (PYD) approaches around the world. As we mark International Youth Day, ICRW reflects on five years of learnings as the lead research partner for the project—and what's next for the field.
What is Positive Youth Development (PYD)?
Cassandra: One of the first things we did as the YouthPower Learning project was collaborate with a growing youth development community to co-create a definition of PYD and a measurement framework that could guide implementation and research in low- and middle-income countries. While simple, the definition and its related framework have demonstrated excellent applicability across international contexts.
"PYD engages youth along with their families, communities, and/or governments so that youth are empowered to reach their full potential. PYD approaches build skills, assets, and competencies; foster healthy relationships; strengthen the environment; and transform systems."
 — YouthPower Learning definition of positive youth development

How do we apply PYD to our programs and research?
Laura: Grounded in our definition and PYD framework, ICRW spearheaded the research for both the Systematic Review of PYD Programs in Low- and Middle-income Countries and PYD Measurement Toolkit—two seminal works to come out of the project.
These resources took stock of existing evidence and put forward a robust M&E framework, indicators and measurement tools that embody a PYD approach. There wasn't anything like this when we started YouthPower Learning. These resources served as the building blocks for programs and research, and the foundation for more than 150 products that teams within YouthPower Learning developed to advance the field.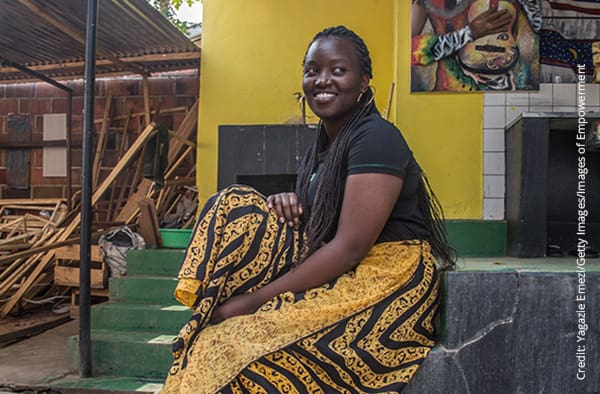 Meroji: Through the project, ICRW delved more deeply into under-researched issues such as gender-related drivers of poor adolescent mental health; the importance of engaging family members around adolescent reproductive health matters; and why peers and safe spaces in programming are critical. A key finding from our research on these issues is the need to create a more supportive and enabling environment to achieve desired change.
"The PYD framework helped our team to connect the dots and to identify where we're doing well and where we can deepen our understanding. The training and toolkit were easy to incorporate into our monitoring efforts … they provided much needed support through indicators and measurement tools without adding to the workload."
 — Kristely Bastien, Youth Technical Advisor, Population Services International Cote d'Ivoire

How is this learning being translated into practice?
Laura: A key goal of YouthPower Learning was to develop a strong learning network committed to youth development—a collaborative space that transcends organizational and sector silos. This included the creation of four communities of practice, with ICRW co-leading on the one focused on gender and PYD. The community worked collaboratively to develop practitioner-focused resources and to share learnings in webinars that addressed key challenges of those working at the nexus of gender and youth.
Cassandra: As USAID Missions around the world are updating their country strategies, YouthPower Learning supported them directly by conducting cross-sectoral youth assessments and provided staff training sessions on PYD concepts. Holistic PYD and cross-sectoral programming is becoming a key approach to new youth-focused programs, which will reap dividends in addressing economic and development challenges globally.
"One of the major shifts resulting from this body of work is that the development community is no longer asking why we should engage youth as partners in development, but rather how to bring forward new evidence and promising practices that support youth as leaders in improving development outcomes. This is a huge step forward and critical in reimagining our world post-COVID-19."
 — Cassandra Jessee, Director, YouthPower Learning

What's next for the field of PYD?
Meroji: Moving forward, continuing to surface and fill in the knowledge gaps is essential. With this in mind, YouthPower Learning led on developing a PYD Learning Agenda, which offers a blueprint for USAID and the broader youth development community to address critical evidence gaps and explore untapped opportunities related to PYD. ICRW will continue to align its research to address key gaps, particularly for vulnerable and marginalized populations.
Cassandra: Acknowledging the current health, economic and governance crises, the imperative has never been greater to understand the ways in which youth—with the right partnerships and support—can be agents of change to create a new world. The PYD Learning Agenda grounds the community in our collective evidence to make better informed decisions and investments. These are the areas we will continue to research under YouthPower2: Learning and Evaluation (also led by Making Cents International) and across ICRW's other youth-related work.