Adolescent girls, advocates, and Ashley Judd take on the United Nations
Article Date
05 October 2015
Just hours after President Obama spoke to world leaders about ending poverty and sexism, a new group of powerhouse advocates took the stage at the United Nations to talk about how they're ending discrimination in their community. These amazing advocates taking the U.N. by storm are adolescent girls from Guatemala, Nigeria and Bulgaria. They took the stage at the event, "Central or Sidelined: Examining How Girls Fared in the 2030 Agenda"  to talk about issues faced by girls in their communities – and issues that are undercutting efforts to reduce poverty – including access to sexual and reproductive health, education and political rights.
Ravi Verma, head of ICRW's Asia Regional Office in Delhi, kicked off the event, celebrating the adoption by the U.N. General Assembly of the new global development agenda. Known as the Sustainable Development Goals, or the 2030 Agenda, the goals lay out a path forward for tackling some of the biggest challenges faced by people living around the world, including inequality, climate changes, discrimination and communicable diseases. These goals, which replaced the Millennium Development Goals (MDGs), prioritize some of the biggest challenges facing adolescent girls, including child marriage, gender-based violence and lack of access to critical sexual and reproductive health services. Unlike the MDGs, where girls' needs were practically sidelined, the barriers that girls face are integrated in this new set of global goals.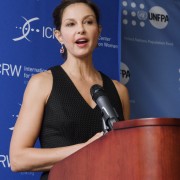 The event was held at UNFPA's headquarters and was moderated by actor, activist and author Ashley Judd. Judd spoke about the importance of protecting the rights of children and adolescence, and specifically called out the United Nation's Convention on the Rights of the Child: "One of the main reasons I love it is because it talks about the growing capacity of the child, inclusion and the child's voice." Underscoring just how important it is to listen to the voices of children in conversations about issues concerning them, Judd then moderated a discussion among the young advocates about the issues that drove them to be advocates for youth. In her remarks, Judd noted that adolescence is a critical time for girls, and told the audience they must build up girls doing that critical time so they are empowered to be leaders for the next generation.
Elizabeth Williams, a 19 year-old advocate from Nigeria, spoke about working with peers to help them understand their political and human rights and how to exercise them. She also noted that the global goals cannot be achieved without engaging male peers: "The only way we can achieve gender equality is when girls realize they have rights and boys realize they have rights and we both respect each others' rights."
Preslava, a 19 year-old advocate from Bulgaria spoke about the moment when she realized that not another day could pass before getting involved in advocating on important issues faced by girls in her community. During a health class, her teacher told the class to be careful, because HIV could be contracted from a mosquito. "That's the moment I realized that everyone doesn't know about these issues. I have a younger sister, and I want her to have this information," said Preslava.
Jimena, a 12 year-old advocate from Guatemala, spoke about the most pressing issue girls faced in her community: early pregnancy. Jimena's mother, who sat in the crowd just inches away from where her daughter spoke, had her when she was an young girl, so Jimena poured her energy into starting a school to educate girls on sexual and reproductive health and violence prevention. Like Elizabeth, she spoke about the importance of peer-to-peer learning, "I'm very excited to see all those girls learning for themselves, and I learn. We're learning from each other."
Jimena called on those in the room and to leaders of countries worldwide, "Invest in adolescents, we're not only the future, we're the present, and we deserve to be happy."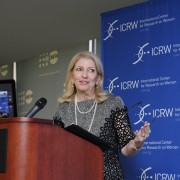 Catherine M. Russell, U.S. Ambassador-at-Large for Global Women's Issues, closed the event, underscoring the importance not only of putting resources towards breaking down barriers that prevent girls from succeeding, but also about how important it is to take the time to listen to girls: "Our work is better, it's more informed, and it's more inspired when we hear from these adolescent girls." She acknowledged that with a grand total of 17 goals, which are all competing for funding, it will be up to advocates to ensure that adolescent girls get their fair share of the pie.
As the panel drew to a close, the girls acknowledged that advocating on these critical issues cannot be done alone and each girl spoke about other women and girls that inspired them to make it their life's mission to knock down barriers for other girls. Jimena spoke about her parents, who helped develop her voice and strengthen her resolve. Preslava thought of her sister, whose future is impacted by the work that she does. And Elizabeth thought immediately of Malala Yousafzai, the now-famous young Pakistani girl who was shot by the Taliban for her work on girls' education. "Seeing the premier of the movie Malala was inspiring… It made me wonder, could I do that? Could I stand up to the Taliban? You have to be crazy to do that. You have to have crazy passion. So I want to take that back with me, that crazy passion."
From the amount of crazy passion in the room, emanating not only from the girls themselves, but eager audience members from around the world, we at ICRW have absolutely no doubt that the futures of girls around the world are in good hands.
 To read ICRW's full analysis of how girls fared in the 2030 agenda, click here.
Watch the event here: