A Holistic Approach to Worker Voice and Well-being: Innovating with a Gender Lens
A Holistic Approach to Worker Voice and Well-being: Innovating with a Gender Lens
The International Center for Research on Women (ICRW) Advisors has joined forces with seven of the leading apparel, footwear, and multi-sector retailers to tackle a pressing issue in the industry – understanding the experiences and needs of women factory workers. The collaboration, known as the Gender Equity Worker Engagement Group (GEWEG), includes well-known brands such as Amazon, Nike, Primark, PUMA, and Ralph Lauren, and was led by ICRW Advisors in partnership with Labor Solutions and Ulula.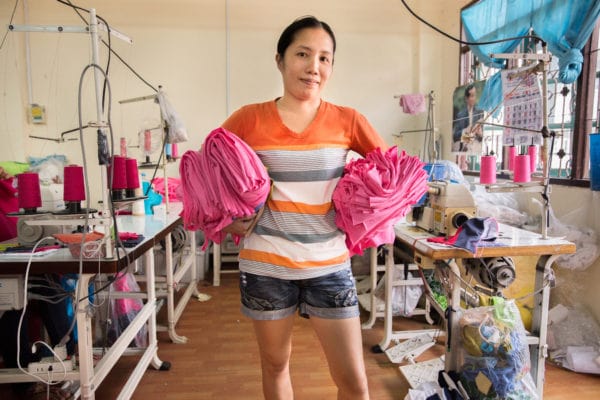 For the past decade, "worker voice" initiatives have been a staple in the apparel and footwear industry, often as part of audit requirements, providing valuable insight into the workplace well-being of workers. While surveying workers through mobile apps and on-site assessments is not a new concept, incorporating a gender-inclusive lens is a step forward in the industry. This approach sheds light on what matters most in the factory experience for women workers and helps to address a long-standing issue — the systemic underreporting of the most salient risks and opportunities for women in previous worker voice surveys.
To address this challenge, ICRW aimed to create a worker voice gender questionnaire that can be easily integrated with existing surveys. This involved creating a set of questions that specifically target the particular vulnerabilities and areas of opportunity for women at the factory level. Through a co-creation process that involved surveying both women and men, the team carefully crafted the questions to provide a clear understanding of worker perceptions. When these answers are compared with managers' self-reported data on gender policies and best practices in the factory, one can identify areas of agreement or disagreement on gender equity progress in the workplace.
Insights generated from these worker voice questions will have the potential to advance the industry in the following ways:
For workers:
Improve workplace conditions if factory managers take action on the insights gleaned from the surveying
For suppliers:
Enhance supplier awareness of gender gaps to promote the implementation of equitable interventions and encourage manager-worker dialogue about areas of improvement
For brands:
Serve as a basis for partnering with suppliers to help them continuously improve to reach both supplier and brand commitments
Serve as a tool to help brands better comply with ever-increasing human rights due diligence legislation, and to engage with investors
For ecosystem players:
Serve as a public good to be used by third-party survey providers in factories
Provide NGOs and researchers with questions to advance their research
Gaining targeted feedback from workers on key gender issues provides valuable insights into the experiences of women in the industry. This helps to corroborate the information reported by managers (which is often self-reported) and highlights any differences between workers' and managers' perspectives.
The GEWEG initiative aimed to create a comprehensive survey that addresses the most pressing issues facing women workers. To achieve this, the team distilled a set of questions that started with a scan of global pre-existing questions and interviewed industry experts to develop a question set that goes beyond simply disaggregating and comparing men's and women's responses to general worker wellbeing questions. Adding a gender lens has meant carefully crafting a new set of questions.
In partnership with survey providers Labor Solutions and Ulula, ICRW piloted the survey in six factories across Vietnam, Indonesia, and China, reaching over 1,813 workers, and then workers engaged in focus group discussions.
Feedback from workers
The results of the worker voice survey and focus group discussions indicated a relatively positive overall sentiment across the categories being measured, which is a common finding in this type of survey tool. However, variations in scores provided valuable insights into the workers' experiences. The highest scores were recorded in the categories of Safety, Health and Wellbeing, and Gender-based Violence and Harassment (GBVH), suggesting that the majority of participants felt that they had adequate access to health services and protective equipment and that they felt confident in GBVH reporting systems in comparison to other measurement categories. On the other hand, the lowest scores were recorded in the categories of Gender Equity Commitments (measuring discrimination) and Support for Working Parents, indicating that, compared to other categories, discrimination was perceived to be a prevalent issue in the workplace, and that there may be a lack of policies to support working caretakers.
Our learnings overall
There's a widening space to talk about gender: factory managers were open to learning more about gender issues (beyond well-being); workers, particularly women, are excited about the gender angle.
Value of women is captured by asking the right questions, and crafting these questions takes time and multiple rounds of careful iterations: collecting worker feedback is critical to getting questions right, and it's important to contextualize — one size survey does not fit all contexts by factory or by country. There is an opportunity to push the boundaries even further moving forward on more sensitive themes about social norms in future iterations of the work.
Education & awareness should be integral pieces of worker voice efforts. There are still a lot of blind spots around needs, dimensions, and the importance of gender work at the factory level for both managers and workers. Vendor work on sensitization and outreach is critical for widespread adoption and to build worker trust. Workers, including women, don't always understand the needs, biases, and barriers they face. More work needs to be done on underlying norms and practices.
There is value in doing gender equity data layering and contextualization. The complexity of gender equity at the factory level requires a deeper understanding of how policies and practices impact both business performance and women workers' well-being. The contextual information obtained through worker voice surveys provides factory managers with more comprehensive insights, helps to identify blind spots, and allows for revised prioritization. These insights can be used in conjunction with other data sources, such as manager-reported gender self-assessment questionnaires, to further enhance understanding and inform decision-making on action planning at the factory level.
Action planning needs to be an integral component / next step. The worker insights generated from the survey provided actionable recommendations for factory management to implement, ranging from deeper root cause analysis to manager-worker dialogue and targeted trainings. ICRW looks forward to offering more comprehensive support to brands and factory managers in determining and executing these next steps.
Next steps
The gendered insights generated from this worker voice survey have the potential to inform suppliers in crafting more impactful gender equity initiatives and provide brands with a clearer understanding of what to expect from their suppliers.
By conducting this WV survey on an annual basis, it is possible to track worker sentiment over time, which correlates to the efficacy of supplier engagement on gender equity policies and practices.
As an immediate next step, ICRW plans to expand the worker voice survey to more factories in 2023, in collaboration with brand partners, to generate a more comprehensive data set of worker responses. ICRW also aims to support industry capacity to operationalize and bridge the gap between data and action planning.
The potential impact of the gendered worker voice questions is substantial. Deployment can facilitate more meaningful collaboration between brands and suppliers, foster open communication between managers and workers, and ultimately lead to improved working conditions for factory workers with particular benefits to women.
Over time, these questions can also be adapted for use in other industries, such as agriculture and electronics manufacturing. In the medium-to-long term, an advanced next step the industry can take is funding testing around the validation of worker voice and supplier manager self-assessment questionnaires through, for example, third-party entities. Once validated and triangulated, these data can be used for transparency and reporting for human rights due diligence efforts and can be used for the basis of tools such as supply chain finance.
ICRW is committed to expanding the use of the tool and working with the wider community to leverage these insights that come from its deployment and data collection.