ICRW is taking part in a number of events this month at the 63rd session of the Commission on the Status of Women (CSW63). From March 11th – 22rd, Representatives of Member States, UN entities, and NGOs from around the world will be convening at the UN Headquarters in New York.  Hope you'll join us!
Highlighted Events
Monday, March 11th
Energy Access for Empowerment  |  RSVP: https://www.eventbrite.com/e/energy-access-for-empowerment-registration-57709813606
4:00-5:30pm
Ford Foundation Center for Social Justice, 320 E 43rd Street, NY
Organized by: The Clean Cooking Alliance, UK Department for International Development, the World Bank, SEforALL, Practical Action, and ICRW
Opening remarks by:The Rt Hon Penny Mordaunt, MP, Secretary of State for International Development, UK Department for International Development
And remarks by: Dymphna van der Lans, Chief Executive Officer, Clean Cooking Alliance; Kathy Calvin, Chief Executive Officer, United Nations Foundation; Rachel Kyte, Chief Executive Officer, SEforALL (invited)
Tuesday, March 12th
On the Way to Biarritz: Women's Rights at the Heart of the G7 Summit  |  RSVP: https://docs.google.com/forms/d/e/1FAIpQLScLBagFYSpcrEQe0xQy1ebmyRfm03etgPqFSnXFjrHOFLy0aQ/viewform. 
11:30am-12:45pm
UN HQ, CR-4
Organized by: CARE France, Equilibres & Populations
Sponsored by: France and Canada
Progress Under Threat: A presentation of the Feminist UN Campaign Report Card on the Secretary General
3:00-5:00pm
Roger Smith Hotel, Solarium Room, 16th Floor 501 Lexington Avenue, 47th Street
Organized by: Education International (Union)
Wednesday, March 13th
Social protection, public services and sustainable infrastructure: Policy coherence for the empowerment of women in informal employment
3:00-4:15pm
UN HQ, CR- 11
UN Women (official side event)
Thursday, March 14th
Feminist Leadership at the UN  |  RSVP: https://www.eventbrite.com/e/314-feminist-leadership-at-the-un-registration-58178229651
1:00-2:45pm
Trygve Lie Center for Peace, Security & Development
International Peace Institute
777 United Nations Plaza, 12th Floor
(Corner of 1st Avenue and 44th Street)
Organized by: The International Peace Institute, ICRW, the Feminist U.N. Campaign and Save The Children
Moderated by: Dr. Sarah Taylor, Senior Fellow, International Peace Institute.
Speakers include: Ms. Nahla Valji, Senior Gender Adviser, Executive Office of the Secretary-General; Ms. Lyric Thompson, Director of Policy & Advocacy, ICRW, and Feminist UN Campaign report card co-author; Ms. Nora O'Connell, Associate Vice President, Public Policy and Advocacy, Save The Children; and Member state Representative (TBC).
Thursday, March 21st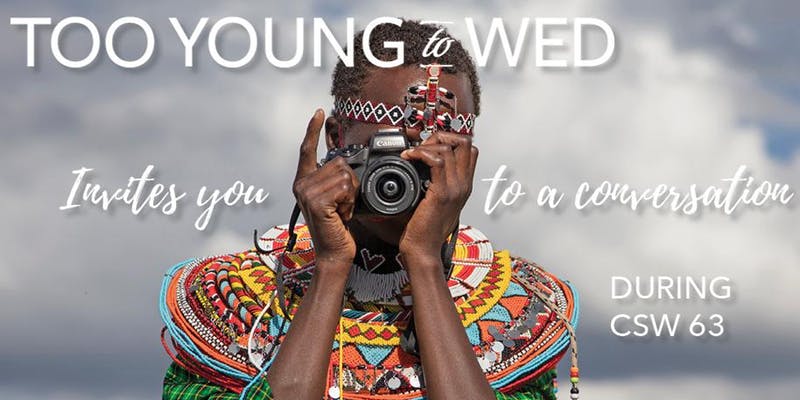 Too Young to Wed: Creating Enduring Partnerships to Help End Child Marriage  |  RSVP: https://www.eventbrite.com/e/too-young-to-wed-creating-enduring-partnerships-to-help-end-child-marriage-tickets-57743497355
12:00-1:30pm
Morgan, Lewis & Bockius LLP 101 Park Ave, New York City
Organized by: Too Young To Wed, ICRW, Samruru Girls Foundation, Ford Foundation
Sponsored by: Morgan Lewis
Special guests include:Nailusa Josyline Lodung'okiok, Child Marriage Survivor (Kenya); Dr. Josephine Kulea, Founder, Samburu Girls Foundation (Kenya); Tanya Khokhar, Grants Officer in the Office of the Vice President, International Program of the Ford Foundation (USA, Pakistan); Lyric Thompson, Director, Policy and Advocacy ICRW (USA); Stephanie Sinclair, Founder, Too Young to Wed and National Geographic Photographer (USA).
Whether for our events or others,
we hope to see you all soon at #CSW63!
For more information, please contact Teresa Casale at tcasale@icrw.org.