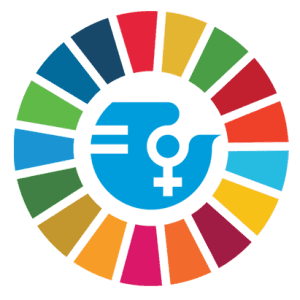 ICRW made several commitments at the Generation Equality Forum—a civil-society centered, global gathering for gender equality convened by UN Women and co-hosted by the governments of Mexico and France.
The Forum, which kicked off in Mexico City March 29-31 and culminated in Paris from 30 June 30 to July 2 2021, brought together stakeholders to revisit the commitments outlined in the 1995 Beijing Declaration and Platform for Action and catalyze transformative action toward gender equality.
Launch of a Global Partner Network for Feminist Foreign Policy
As a key commitment under Action Coalition 6: Feminist Movement and Leadership, ICRW and partners launched the Global Partner Network for Feminist Foreign Policy as part of the official programming of the Generation Equality Forum. An official Generation Equality Forum side event featured civil society advocates and representatives of governments in the process of implementing feminist foreign policy, including from Sweden, Mexico, and Libya.
By joining the Global Partner Network, partners will encourage learning and adoption of the shared framework for a feminist foreign policy, and serve as resources to be called upon for action and advice. Partners will determine a plan of action for at least the next year, including the formation and mobilization of working groups and the commencement of semiannual meetings. Over time, the Global Partner Network will grow, discuss best practices for implementation, and propose accountability mechanisms.
Economic Justice and Rights
ICRW as facilitator, in collaboration with the Founding Collaborative Members, commit to create a collaborative, global coalition on women's economic empowerment (WEE) under the Economic Justice and Rights Action Coalition. This coalition will aim to build the global evidence-base on WEE, including from an intersectional and COVID-19 lens, to ensure women and girls and gender inclusion more broadly speaking are meaningfully included in build-back efforts, as well as broader economic policies. The global nature of this coalition and the breadth of expertise of its members will uniquely position it to meaningfully influence multiple spaces and mechanisms at the global and national levels, amplify and raise the voices of women in the Global South, and advance an intersectional feminist economic approach to WEE. The coalition will create a structure for all the different member organizations to share ownership across common goals and values.
Founding members: ActionAid, APCO International, Bankable Frontier Associates Global, BRAC International, CARE, Center for Global Development Research Advisory Partner, Data 2X, Development, Research, and Project Center, Euromonitor International Ltd, Ethiopian Economics Association, The Gender and COVID-19 project, GROOTS Kenya, Hive, International Development Research Centre, J-PAL, Kenyatta University, Landesa, MarketShare Associates, Oxfam Canada, Publish What You Fund, University of Nairobi, Women's Economic Empowerment Hub, Urgent Action Fund-Africa (UAF-Africa), Serve Tanzania Foundation, Sheria Kiganjani, and The WORLD Policy Analysis Center.
On July 2, during a high-level panel on care, the Government of Mexico (represented by President of the National Institute of Women Nadine Gasman) launched a new Global Alliance for Care. The Alliance aims to "increase women's economic empowerment by fostering the creation of care systems; promoting the transformation of gender roles; and accelerating an equitable economic recovery in the wake of the COVID-19 pandemic through implementing and/or increasing commitments and concrete actions on care." ICRW is proud to join the Alliance alongside more than 10 governments and a group of civil society partners. 
Supporting Governments to End Gender-Based Violence and Harassment at Work by Implementing ILO Convention 190