This year, ICRW is celebrating 45 years of making the invisible visible, and mapping new pathways for women, girls, and other marginalized people around the world. We deliver the proof that disrupts the power.
We've come far these last 45 years. But there are miles to go.
During our anniversary year—as we reflect on the past and evolve a new, shared vision for the future—we are hosting events, engaging in dialogue, and calling all of you into the discussion.
Social, economic, and political upheaval amid a global pandemic have created new challenges while revealing new opportunities. This is a time to redouble our efforts to help ensure that all people marginalized by their gender are not only part of the conversation, but are also driving the solutions.
Learn more below, and join us in our celebration.
45th Anniversary Events
Adolescent Girls: Breaking Barriers, Shifting Norms


Tuesday, August 24, 8:00 AM ET | 1:00 PM BST | 3:00 PM EAT | 5:30PM IST
Event recording
Social norms define gender roles, responsibilities, and power dynamics. These deeply rooted, unwritten "rules" can result in harmful outcomes for adolescent girls—preventing them from accessing opportunities and realizing their rights.
Fortunately, social norms can shift over time. But changing them requires deep commitment from a range of stakeholders: family members, male allies, communities, schools, policymakers, organizations, and other champions of girls' development.
Working with local partners, ICRW mobilizes these stakeholders into networks that together create an "ecosystem" to support the equitable development of both girls and boys. During this event, the first in ICRW's 45th anniversary series, speakers from across our global platform and youth leaders discussed illustrative examples of how to disrupt barriers and support systemic change.
---
Reshaping the World of Work for Women


Wednesday, September 29th
Event Recording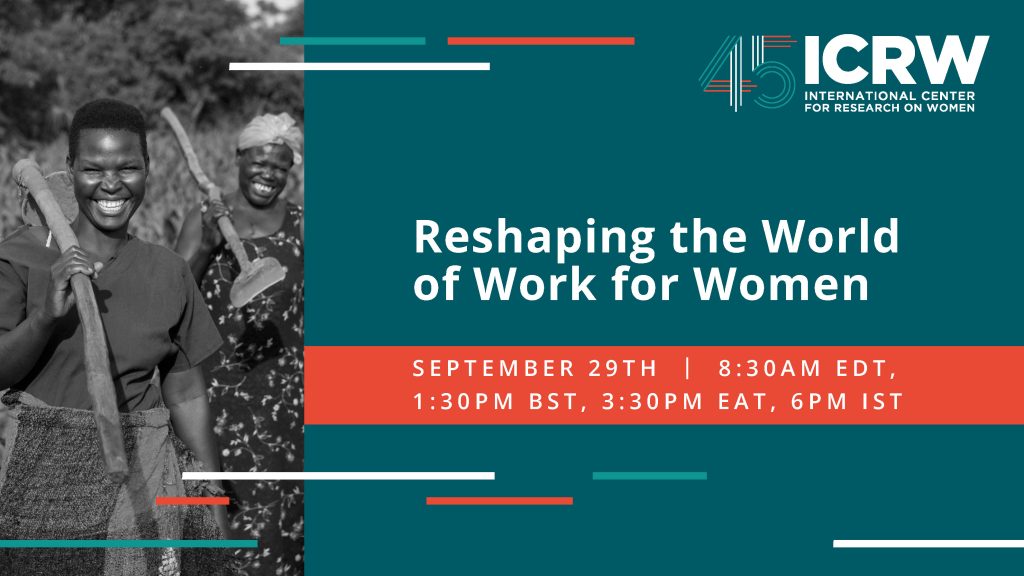 COVID-19 has strained global health systems beyond capacity, and the economic fallout has been far-reaching: job losses, wage cuts, small businesses closing their doors, and the added burden to social safety networks and government programs.
In crises like the coronavirus, women are often the first to drop out of paid work and the last to join back. Their experiences are compounded by fewer employment opportunities, disruptions in childcare, an increased burden of unpaid care for the ill and elderly, an uptick in gender-based violence, and increased competition for resources.
The systemic inequities highlighted by the pandemic shed light on the many barriers women face in the world of work. New and innovative recovery efforts are required to address these inequities and set women up for success.
During this second event in ICRW's 45th anniversary series, we were joined by speakers from across regions who bring unique perspectives on work in South Asia and East Africa and aim to build a new foundation of support for women in both paid and unpaid work.
These conversations will help us look more closely at the barriers that women perpetually face—leaving them on the periphery—and how we can together tackle these challenges to build toward more inclusive and resilient economies.
---
The Pivotal Role of the Private Sector in Advancing Gender Equity: A conversation on gender in supply chains, sustainability commitments & community engagement
Thursday, November 18th


Event Recording
As part of ICRW's 45th anniversary event series, the ICRW Advisors team highlighted Advisors' recent work with clients in the United States, Africa, and Asia.
We were joined by speakers from leading private sector clients Nike and Unilever to talk about the successes and challenges of initiating gender initiatives across their organizations. The conversation focused on private sector opportunities and challenges promoting gender across global supply chains, while ensuring sustainability and community engagement.
Engage with ICRW on Social
Celebrate our anniversary with us on social media. If you're not already following us, you can do so on Twitter, Facebook, LinkedIn & Instagram. Us the hashtag #ICRW45. Share our resources. Tell us what ICRW's work has meant to you.

Share Your Story of How ICRW is Making an Impact